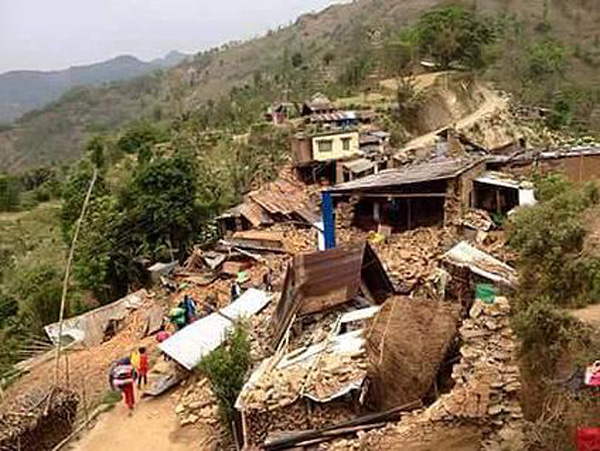 "We have launched an urgent appeal to help provide relief for FSH supported villages in rural Nepal devastated by the April 25th earthquake. We are deeply concerned about the welfare of the children and families supported by First Steps Himalaya in our 22 project villages.
Please donate to help us rebuild the lives of rural children affected by this major tragedy. In our project village of Sangachok there have been fatalities and houses are in rubble. Our Nepali Director and charity founder, Durga Aran's own village of Jitpur is in ruins, with the 6.7 aftershock toppling the last remaining walls of any buildings left standing.
This is a catastrophe for Nepal that will take years to recover from. First Steps Himalaya is dedicated to helping rebuild communities, not only our schools and early childhood centres, but the lives of the precious children we support."
April 29, 2015 update: "Can only give you very brief update right now, because so much going on. Can tell you earthbag building has withstood the quakes. Second 6.7 aftershock demolished 90% of all other buildings. Most villages are flattened. Many deaths and bodies in the rubble. Terrible situation. Earthbag building has only a bit of plaster cracks. We believe it will be used in upcoming time as a shelter for people there. They can use it for whatever is most helpful. It is a roof over their heads still standing. I can't give you more info at this very moment. We are fully intending to promote earth-bag construction as the way to re build on a large scale. Please keep in touch."
Best regards,
Kate Cowan
First Steps Himalaya email: admin@firststepshimalaya.org
First Steps Himalaya.org
Helpful links for earthbag building in developing countries and disaster prone regions:
Earthbag Structures.com
Step-by-Step Earthbag Building Instructable
Earthbag Natural Building YouTube channel shows every step of building with earthbags
Earthbag Building.com This is our main site with all the best articles, videos and other resources.