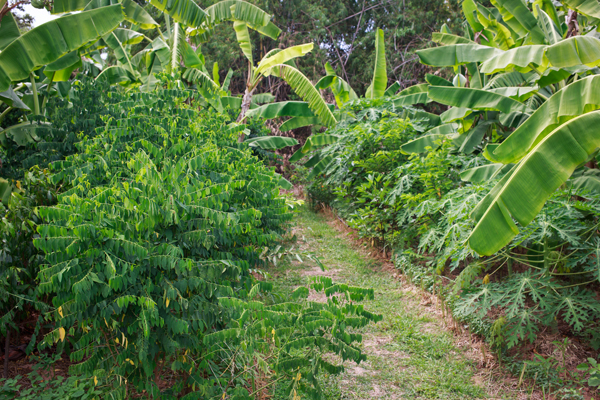 We're struggling through a fairly severe drought this year and yet our forest garden is a lush oasis in a sea of brown, abandoned rice fields. Even the weeds in the rice fields are dying after weeks of no measurable rainfall. Normally it would be raining every 1-3 days right now.

So the message is clear – rice needs heavy, sustained rains to produce plentiful yields, while forest gardens can thrive with far less rain. Just like forests in nature, large trees and banana plants shade smaller plants to reduce evaporation. Trees have deep roots that reach down to the water table. Plus, thick mulch conserves moisture. Our forest garden is only a little over two years old so we still have to irrigate. Over the years we'll irrigate less and less as the forest garden matures and the soil improves.
Watch for our upcoming 2-year garden update video.