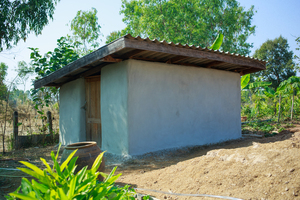 Due to the amazing success of earthbag buildings surviving the recent earthquake, I'm receiving requests to train the trainers who will help rebuild Nepal. I just started the Take it to Zero project and so it seems fitting to offer this training for free. The training will be condensed to two days so it can be done over a weekend.
That's enough time to cover the basics. In fact, you may not need to come at all if you: 1. Read this introductory article on Step-by-Step Earthbag Building, 2. Watch my free earthbag YouTube videos that show every step; 3. Read my Earthbag Building Guide 4. Practice building a test wall with 10-15 earthbags at home. You'll soon see how simple it is. It's basically filling bags with moist soil and then tamping them solid. You can show an unskilled worker how to do each step in about 30 seconds even if they don't speak English.
Email me at naturalhouses [at] gmail.com if you're seriously interested in attending. Times and dates for the training will be set based on the needs of the participants. Let me know what dates are best for you and what organization you are representing. Keep in mind this training is for NGOs, architects and builders who will help train other builders to rebuild Nepal. We'll cover each step of construction just like in previous workshops except this time the emphasis will be on earthquake resistant building techniques. My earthbag building DVD was made by compiling footage from other workshops, so you'll know exactly what is covered if you get the earthbag DVD. This is a limited time offer. We'll do one or two free workshops and see how it goes.