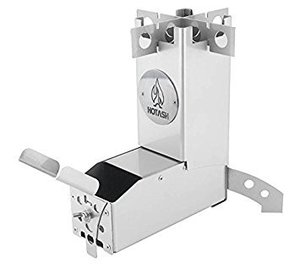 The Hot Ash rocket stove is designed with primary and secondary burns so they burn hot and efficient. Boil a cup of water with just a handful of sticks, wood pellets, or most other biofuels.
The Hot Ash is also extremely packable and disassembles easily. Its 3 pounds…. if 3 pounds is too heavy, this stove is NOT for you. Made in the USA with lifetime guarantee.
Packable, Collapsed Dimensions: 3″ W x 3.25″ D x 8.9″ H
Assembled (not including feet) Dimensions: 3″ W x 7.25″ D x 8.9″ H
Hot Ash rocket stoves
Search our blog for many other camping stoves and twig stoves. In addition to camping, they will work great in emergency situations.