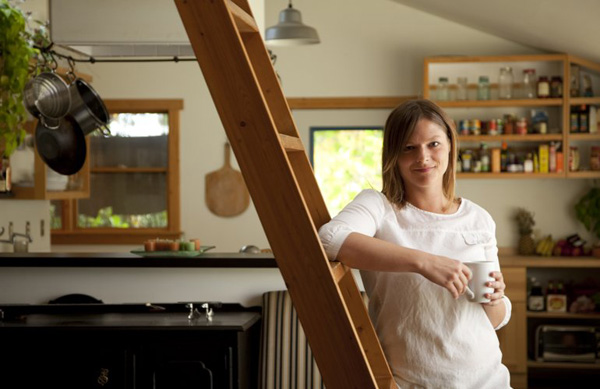 "As editor of the Topeka-based magazine Natural, Home & Garden, Jessica Kellner had plenty of stories of families and organizations from across the country who had built their homes from materials that were otherwise destined for the landfill.
But it wasn't until the housing crisis hit that Kellner connected the need for building affordable housing with the drive to reduce waste.
Here's the numbers that convinced her. The stock of affordable housing is about 4 million homes shy. Meanwhile, each year 250,000 homes are demolished and 125 million tons of construction debris are sent to the landfill.
"There is a fundamental paradox here. We are in need of low income housing and we need houses that people can actually afford, instead of everyone taking out these mortgages that we can't pay back. At the same time, we are demolishing all these homes and taking them straight to the landfill," Kellner said.
In her recently published book "Housing Reclaimed," Kellner tells stories of folks who built their homes piece-by-piece with items uncovered in salvage yards and demolition sites."
Source: Sunflower Horizons.com
Housing Reclaimed is available from New Society Publishers. From the cover:
"Housing is a fundamental human right. For most of human history, our homes were built by hand from whatever local materials were available. However, since the Industrial Revolution, most housing has become little more than quickly constructed, mass-produced, uniform boxes. At the same time, the invention and standardization of the 30-year mortgage and our ever-increasing reliance on credit has come to mean that most of us never own our homes outright.
Housing Reclaimed is a call to arms for nonconventional home builders. It examines how technological advances, design evolution and resourceful, out-of-the-box thinking about materials and efficiency can help us meet the challenge of building affordable, environmentally-friendly, beautiful and unique homes. Focusing on the use of salvaged and reclaimed materials, this inspirational volume is packed with case studies of innovative projects
These projects and others like them demonstrate that building one's own home does not have to be an unattainable dream. This beautifully illustrated guide is a must-read for anyone interested in creating quality zero or low-debt housing, reducing landfill waste and creating stronger communities."