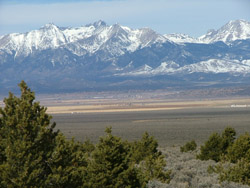 In your search for rural land with few or no building codes, you might want to try out Land and Farm.com. Their search page enables you to narrow the search by state, county, zip code, type of property (farm, undeveloped, orchard, ranch, etc.), property size, asking price, price per acre, irrigated or not irrigated and quite a few other criteria. Once the search results appear, you can further refine the search in a number of ways such as selecting Price (Lowest First) or Featured Property First. In addition, you can browse for what's most popular – Most Viewed, Cheapest Land and Trophy Properties. You can even get new listings sent to your email. Overall, I give their search engine and website high marks. In a test search I found 109 affordable properties in Colorado as low as $5,000 for 5 acres.
Here's one piece that caught my eye. Lease 205 acres in Kentucky for $195. (Okay, I give up. What's the catch?) Amazing-Self Contained Vacation Spot-Cabin-7 Lakes
Disclaimer: I have no financial interest in Land and Farm.com. They're profiled here because they seem to have the largest selection of rural land. Building in rural areas with few or no building codes will greatly lower construction costs.
Here's another big rural real estate company.
United Country Real Estate