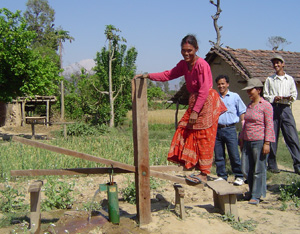 I've been reading up on Paul Polak's work at Paul Polak.com. His new book The Business Solution to Poverty with co-author Mal Warwick has inspired me to dig deeper in search of more affordable housing solutions. They explain why governmental and philanthropic efforts to end poverty have fallen short and will never end poverty because "they lack the incentives of the market to attract massive resources". Donations and tax money will never end poverty. It's just Business 101 if you think about it.
"Right now the number of people living on $2 a day or less is more than the entire population of the world in 1950. These 2.7 billion people are not just the world's greatest challenge—they represent an extraordinary market opportunity. By learning how to serve them ethically and effectively, businesses can earn handsome profits while helping to solve one of the world's most intractable problems.
The key is what Paul Polak and Mal Warwick call Zero-Based Design: starting from scratch to create innovative products and services tailored for the very poor, armed with a thorough understanding of what they really want and need and driven by what they call "the ruthless pursuit of affordability".
Together, they show how their design principles and vision can enable unapologetic capitalists to supply the very poor with clean drinking water, electricity, irrigation, housing, education, healthcare, and other necessities at a fraction of the usual cost and at profit margins attractive to investors."
Here are Paul's 12 steps to practical problem solving for the poor:
1. Go to where the action is.
2. Talk to the people who have the problem and listen to what they have to say.
3. Learn everything you can about the problem's specific context.
4. Think big and act big.
5. Think like a child.
6. See and do the obvious.
7. If somebody has already invented it, you don't need to do so again.
8. Make sure your approach has positive, measurable impacts that can be brought to scale.
9. Design to specific cost and price targets.
10. Follow practical three-year plans.
11. Continue to learn from your customers.
12. Stay positive: don't be distracted by what other people think.
"One of the most hopeful propositions to come along in a long time. Paul Polak and Mal Warwick's approach is original, ambitious, and practical—and it just may be the key to reducing the number of people in poverty on a very large scale. They propose to harness the power of free enterprise to begin meeting the most basic needs of the poor . . . while making a profit. Though market-based approaches aren't new, Polak and Warwick lay out a practical and systematic way to work on a global scale, transforming the lives of hundreds of millions of poor people."
—President Bill Clinton
Related: Out of Poverty by Paul Polak
IDE (International Development Enterprises) founded by Paul Polak "IDE staff throughout the world have helped more than 19 million people lift themselves permanently out of poverty."