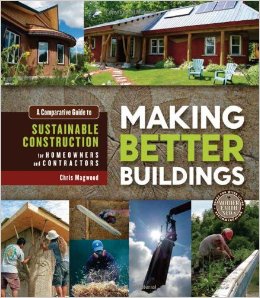 We recently posted an announcement about the availability of this book, but since then I have had a chance to finish reading it, and have reviewed it below.
Chris Magwood's Making Better Buildings is a comparative guide to sustainable construction for homeowners and contractors. It is also a masterpiece of research and experience folded into an encyclopedic reference book for anyone interested in sustainable approaches to our built environment. Clearly a labor of love and a commitment to improving our situation on Earth, this book will have enduring value.
To my knowledge, building science has never been approached with such an attitude of precise evaluation of all of the factors that affect the environmental impact of materials and building systems. Chris Magwood looks at both common, and not-so-common, ways of building to see how they stack up against each other, giving the reader the opportunity to compare every environmental and economic aspect. His criteria for this evaluation embrace environmental impacts, embodied energy, waste, energy efficiency, material costs, labor inputs, ease of construction for homeowners, sourcing/availability, durability, code compliance, indoor air quality, and future development. The environmental impacts include harvesting the material, manufacturing, transportation, and installation. Simple bar graphs indicate at a glance just how "green" each material or system might be.
In addition to this meticulous look at materials and systems, Chris provides an overview of how each system works, in terms of methodology and skill. Here we can benefit from his many years of experience as a builder and teacher to offer tips for successful installations.
Foundation systems evaluated include earthbag, stone, rammed earth tires, screw and wooden piers, poured concrete, concrete masonry units, autoclaved aerated concrete blocks, certain insulated concrete forms, and rubble trenches. At the end of the chapter Chris explains why he decided not to evaluate several very common foundation systems, such as pressure treated wood and concrete slab foundations. Basically he feels that these are so inherently unsustainable that he doesn't want to encourage their use. I would have preferred that he included these popular concepts to allow the reader to form his own opinion about how sustainable they might be, based on the data itself.
Wall systems evaluated include wood frame, straw bale, cob, cordwood, rammed earth, compressed earth block, and adobe. Chris indicates that many of the foundation systems can also be extended upward to incorporate whole walls, such as using earthbags for this. In this regard he failed to recognize that since earthbags can be filled with a wide range of materials (besides compacted earth), they can be tailored to meet a wide range of needs ranging from highly insulated to entirely thermal mass walls.
Choices for insulating walls include cotton batt, straw/clay, hempcrete, hemp batt, perlite loose-fill, mineral wool, cementitious foam, wool batt, and cellulose. Again, some very popular insulated wall systems (including structural insulated panels and insulated concrete forms) are not thoroughly evaluated, other than to specify why they are too unsustainable.
Floor and roof structures are combined into one chapter, and include wood framing, wood trusses, wooden I-beams, glulam framing, open web steel joists, timber framing (and post and beam), conical grain bin roofs, slab based floors. Then, as a separate chapter, various sheathing and cladding materials are evaluated. Earthen plaster, wood planks, plywood and oriented stand board, gypsum board, magnesium oxide board, fired clay brick, lime plaster, and stone are all indicated as useful for cladding walls. Roof sheathing includes metal roofing, cedar shakes and shingles, thatch, slate, composite shingles, green/living roofs, and clay tile. For flooring materials we have earthen floors, hardwood, softwood, tile, linoleum, bamboo, cork, and concrete.
The environmental viability of various surface finishing materials is evaluated. Here we have earthen plaster, lime plaster and paint, milk paint, silicate paint, acrylic paint, oil paint, natural oils and waxes, wallpaper and coverings.
The final chapters deal with utilities and mechanical systems. As sources for water, there are surface water, well water, rainwater catchment, and desalinated water. To pump that water, most common pumping systems are described.  Possible water filtration is outlined. Common pipe materials are evaluated for their environmental impact. For waste treatment, we have municipal wastewater systems, septic systems, and compost toilets.
For heating and cooling, passive solar, solar hydronic, solar hot air, various heat pumps, boilers, on-demand heaters, tank heaters, forced air furnaces, wood and pellet stoves, and masonry heaters are all considered. For electricity, there is grid power, photovoltaic power, wind turbines, and micro hydro turbines.
From all of these lists you can gain a sense of how comprehensive this book really is. Over 400 pages of in depth data and evaluation give both professionals and homeowners the ability to make informed choices about all of the materials and systems that go into putting together a house.
One thing became abundantly clear to me as I read through all the various chapters: building codes are pathetically out-dated, and don't really take into account the truly important environmental considerations in their prescriptive codes. This must change if we want to move toward a sustainable future!