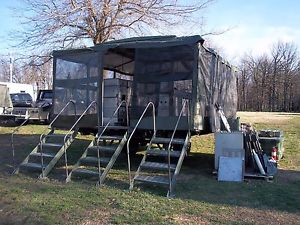 I saw this portable army field kitchen online and realized it would work great for many situations, especially off-gridders who do a lot of canning, baking and cooking. Not sure of the cost, but most Army surplus items are pretty cheap so it's likely you could find a used one reasonably priced. There are different sizes and styles available that you can search for online.
Outdoor kitchens keep the heat outdoors, so they're particularly beneficial in hot climates and for those with large gardens who are storing up for winter. This army field kitchen would also be practical for large families, DIY homebuilders needing a place to cook during the construction process, as well as feeding work crews or cook for special events. Most likely you could resell it at a later date for about what you paid for it.
Just for fun, do a google image search or bing image search with keywords Army Kitchen Field Trailer. You'll see there are lots of options such as mosquito mesh, rain flaps, camo, lifetime use heavy duty stainless steel appliances, large ovens, large pressure cookers, griddles, etc. Some trailers are really small for camping trips or family get togethers. There are so many options that it shouldn't be difficult to find the right combination that works for you. Also note, you'd be all set up if there's ever a grid down situation such as a major windstorm or blizzard. As long as you're stocked up on propane you could continue cooking for a quite a while.
Image source: Alibaba (they sell army surplus field kitchens)