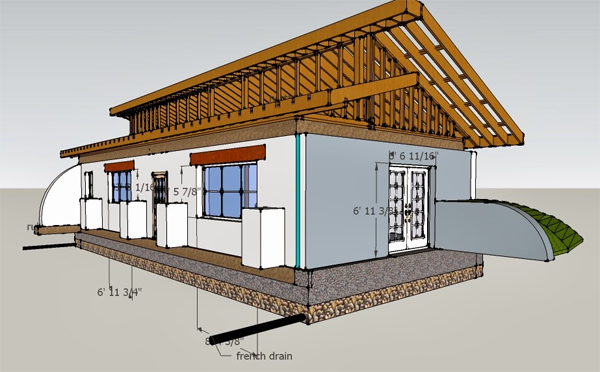 I really like to see blogs that document owner-builder home building projects. People often come up with new and interesting ideas. This particular project is a merger of earthship and earthbag concepts.
"The House
to my knowledge this house will be the first legally permitted earthbag house in washington state.
wait, why do i want to build a wierd dirt house?
two main reasons: earthbag buildings are 1. incredibly strong and 2. incredibly affordable to build.
earthbag construction is similar to that of the adobe buildings you see in the southwest desert, originally pioneered by the native americans who occupied that region. just as in the adobe method earthbag uses a clay rich mixture of dirt and water to fill woven sand bags. the full bags are laid like bricks to build the wall with layers of barbwire placed between the layers to bind one section to the other. when the dirt mixture in the bags have dried and cured the whole structure is insulated if needed then covered in a stucco or lime plaster.
the final product is an incredibly strong structure able to withstand high degrees of stress under compression and sheering torque. in other words its bomb proof. the internet is rich with anecdotes of firing high powered weapons into earthbag walls and driving cars into them but what i was most impressed with was their performance in earthquake testing. with the exception of some types of masonry construction, nothing else comes close.
materials necessary to build the shell of the house (walls and the roof) will come out to be a few grand at most. in relative terms that is ridiculously cheap and a good portion of that is to cover extra materials prescribed by the universal building code. added materials such as lengths of re-bar placed vertically through the bags are redundancies, not integral to the strength or performance of the structure but needed so the permit office can see familiar design features which conform to the building code. im tempted here to rant about how the building code is written by the major development firms and material suppliers to keep their exclusive contracts safe from the threat of superior building methods but that is also for another time."
Read more at the source: Modern Natural Blog