A growing number of people are disillusioned with conventional housing made of 2x4s and sheetrock (the way most homes in North America are built). These homes are filled with materials such as particleboard, plywood, plastic, linoleum, and synthetic carpet and paint that contain known carcinogens and allergens. These man-made materials offgas toxic chemicals such as formaldehyde and often continue to do so for many years. Occupants of these homes frequently acquire 'sick house syndrome' from breathing these noxious fumes.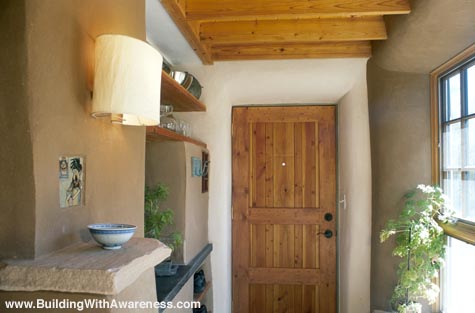 But many are beginning to see through the charade. Why work a lifetime for an impersonal, mass-produced commodity that endangers lives and the environment, and does not reflect their ethos?
The best way to learn about natural building may be to see finished homes and hear them described by their builders. Thanks to the power of the Internet, these homes are now just a click away.
Without further ado, let's take the natural building tour: (8 featured homes)
– Ted Owens' strawbale solar home in Corrales, New Mexico: Author/publisher Building With Awareness – The Construction of a Hybrid Home, recipient of three Telly Awards for excellence, Ted Owens masterfully blends straw bales and adobes in this southwestern style home.
To read the entire article, go to GoArticles.com