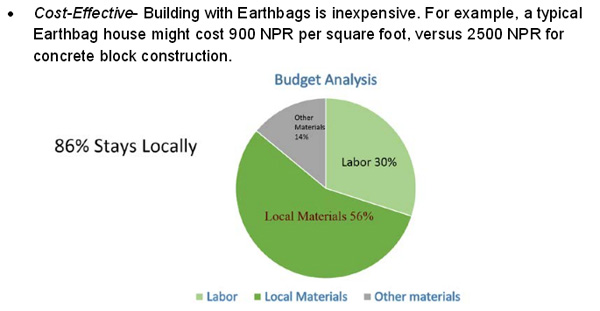 The Nepal Engineer's Association (NEA) invited me and Kateryna of Good Earth Nepal to submit a technical summary of earthbag building, which has just been published. An excerpt is below. The full report is also now free online at Earthbag Building.com. You might remember that Good Earth Nepal won the NEA people's choice design award a few months ago. Visit our main website Earthbag Building.com for complete information on earthbag building, including related reports, testing info, workshops and videos.
Earthbag technology is an inexpensive, simple and sustainable method for building structures. Having evolved from military bunker construction and flood control methods, Earthbag buildings are notable for their ability to endure fire, flood, wind, earthquake and vermin, and are used in disaster-prone zones all over the world. In Nepal, 55 Earthbag buildings survived a 7.8 magnitude earthquake with no structural damage. Because Earthbag technology makes minimal use of cement, concrete, steel and timber – and the fuel needed to transport them – the technique is easy on the environment, and doesn't deplete scarce natural resources. Earthbag technology also requires less expertise than more traditional building methods, and only the simplest of tools.
Though relatively "new", the basic principles behind Earthbag technology have been around for centuries. Some call Earthbag technology "Rammed Earth in a Bag" or "Reinforced Rammed Earth".