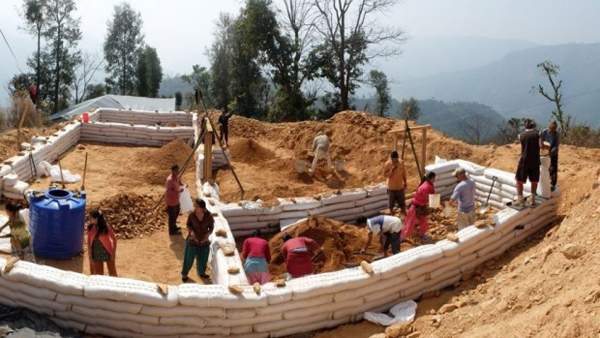 "A Nelson trust's humble earthbag school has gained international attention after it withstood the devastating Nepal earthquakes. Now, First Step Himalaya wants to use the earthbag technology in its work to rebuild the schools it supports in Nepal.
Directors Durga Aran and Fionna Heiton, of Nelson, said the trust wanted to thank everybody who had helped the trust raise $150,000 so far. "It's been incredible. We can't believe it. It's really humbling," Fionna said.
The money had come in from around the world, including pre-schools in Hong Kong who had previously supported it through Purple Cake Day raising $43,000. A school in Geneva raised $10,000.
Fionna and Durga said they were excited at the chance to build the classrooms using earthbag technology. The new earthbag building had shown it could stand up well in big quakes. It was also an environmentally friendly and sustainable option.
The trust's first earthbag school was built by New Zealand builders and was finished just two weeks before the quake. It survived the massive shakes with only minor repairable damage while many concrete, or stone schools, in the region collapsed. Most of the 63,940 houses in the region were completely gone. Only an estimated 2600 houses were repairable.
After a TV3 story on how it survived the quake aired, the trust has been inundated with media, and agencies interested in the building. "Basically from around the world from Finland, from Sweden, from Japan, everywhere people saying we've heard about this building and people are all beating this path to see it," Fionna said."
To donate to First Steps Himalaya givealittle.co.nz/cause/ earthquakenepalrelief
More at the source: Stuff.com