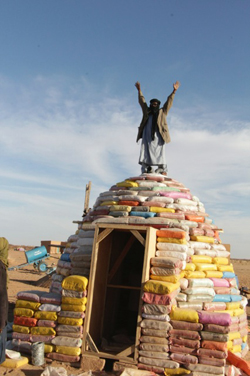 "There were many goals to be achieved with this training program. The final project was to leave them with 2 dorms; one for boys, one for girls, and one for the teacher. The nomads were to build it in order to learn how to build something, as they are not accustomed to building. We had trained 23 nomads on how to build domes with reclaimed rice and flour bags. The project started with building two 3m domes in tandem with 8'x 8′ patios. The on-site soil we used was near perfect for building but we also added a clay slip from a nearby grey clay deposit to bring the clay percentage up to approximately 25%. The nomads were very intelligent and caught on to the process very quickly, although everyone was skeptical that the dome would stay standing.
Both domes, with the patios, were completed in 8 days. It was amazing what they did. After these two structures were up, we reevaluated and realized that some of the techniques were not feasible for the nomads to replicate anywhere they traveled in the bush.
Luckily these first domes had helped us realize that we needed to be as resourceful as possible. We had used wood forms for the windows and doors to start but that was not feasible for the nomads because they could not make them in the field. In fact, most clay brick structures out there had no windows, only a door so what we had just built was literally a luxury. So for the third dome we had decided to allow the nomads to use what they could think of for the compasses while we determined that a sandbag form would suffice for an entry way.
They completed the last 3m dome, with little guidance from Fox and I, in 6 days. They used a semi-rigid string for the compasses and as you can see by the photos, they made it work to perfection. The door arch also worked well and yes, they were skeptical about the arch when we moved the form. I jumped on it for about 5 minutes to prove it was fine. All in all they were very thankful for the training and Fox and I were absolutely thankful for the experience. They are a great group of nomads, the Tuareg.
For photos and more info, here is the Nomad Foundations' blog:
http://nomadfoundation.org/best-mission-ever
We are currently working on our hyper-wattle insulation that we should be done applying tomorrow. Fox had been in contact with Patti Stouter and hopefully we can get a collaborative write-up about it in the coming months!
Kind Regards, James Golub