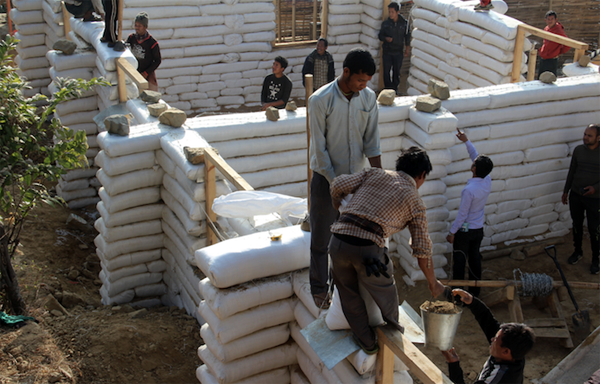 "My guest today is Kateryna Zemskova, CEO and co-founder of Good Earth Nepal.
Joan Brunwasser: Welcome to OpEdNews, Kateryna. I'm quite sure that most of our readers have not heard of your organization. Can you tell us a bit about it?
Kateryna Zemskova: Hi, Joan. Good Earth Nepal is a New York-based non-profit organization we established after the devastating 2015 Nepal earthquake. We teach villagers in the most remote areas of the Himalayas to rebuild their own homes and schools using Earthbag technology, a construction technique which employs ordinary soil from the worksite to build safe, inexpensive and eco-friendly structures.
Our team of Nepali architects and engineers work side by side with families and village builders, helping them rebuild structures destroyed by the earthquake and giving them the skills they need to initiate their own Earthbag projects. We also work with architectural and engineering universities, and from our Kathmandu headquarters have given intensive Earthbag workshops to several hundred Nepali citizens, without charge.
Earthbag technology is an inexpensive, simple and sustainable method for building structures.
Having evolved from military bunker construction and flood control methods, Earthbag buildings are notable for their ability to endure fire, flood, wind, earthquake and vermin, and are used in disaster-prone zones all over the world.
In Nepal, 55 Earthbag buildings survived a 7.8 magnitude earthquake with no structural damage.
Because Earthbag technology makes minimal use of cement, concrete, steel and timber-and the fuel needed to transport them-the technique is easy on the environment, and doesn't deplete scarce natural resources.
Earthbag technology also requires less expertise than more traditional building methods, and only the simplest of tools.
Joan Brunwasser: What else would you like to discuss before we wrap this up?
Kateryna Zemskova: The best part of what I do is seeing how fast the Earthbag idea is spreading, especially in the developing countries that need it most. In India, for example, we recently partnered with a leading engineering university, with multiple campuses. We'll be doing a lecture tour, and designed a beautiful model canteen, to be built on their campus. We'll supervise the students as they build it and when they're done, they'll go on to build their own Earthbag structures. We've also received inquiries from organizations working in Haiti and Africa. Anywhere people need affordable, eco-friendly housing that stands up to earthquakes and typhoons, Earthbags are a good option."
More at OpEdNews