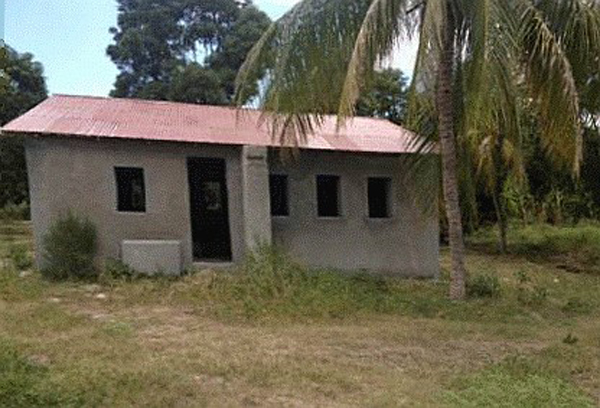 "My Haitian friends with HCDP have built 3 dorms of straw wattle on earthbag base. We sized them to fit the most beds possible, and to add 2 short tents between them so that they could accomodate the most beds possible for occasional classes. Although the reports all say that peasants are very resistant to learning improved agriculture from anyone, Haitian-born HCDP director Gueston Pacius seems to be changing that.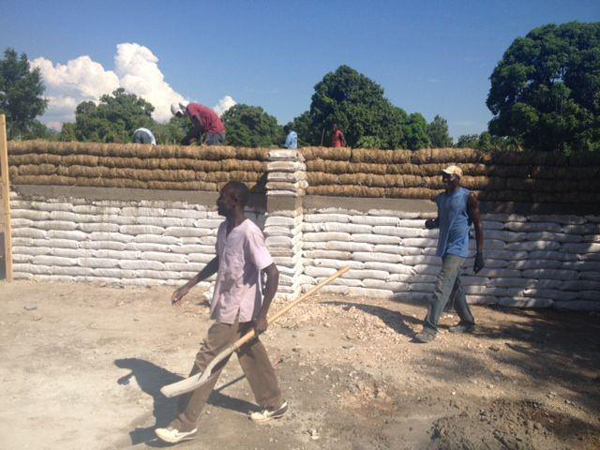 The HCDP builders really like the straw wattle, although in Haiti you have to get straw right at harvest time. They used rice straw from the Artibonite valley available in early summer. This is firmed up with a poured clay slip, and covered with earthen plaster containing a lot of clay. The final weather-resistant surface should be a lime plaster. I'm not sure if HCDP got enough lime, or tried to use some cement stucco. I don't recommend cement on earth, but they are in a very dry climate and I'll just have to see what happened, and teach lime plaster next trip.
I recommended small diameter wood poles for reinforcement and for roof trusses. This dorm is just big enough I felt it needed wall reinforcement. A house with rooms only 12′ wide probably wouldn't in many regions.
The HCDP builders found rebar simpler to reinforce the walls- since it could be inserted into the earthbag walls. I haven't seen the finished roof yet. I would love to have some engineering help to size some small diameter wood trusses for houses and small dorms/ classrooms.
One thing to make clear is that structural straw wattle is only for tropical and subtropical areas that won't have heavy snow on the roof."
Build Simple.org:
"Need help to choose the right inexpensive material for a building? Want to know how to build a sustainable new material? Wondering if you can afford to build something strong enough for your level of quake or flood hazard? Since Patti's entry was voted number one in the $300 House Contest, she's focused on exploring new materials to take safe and affordable buildings to new levels."
Build Simple.org