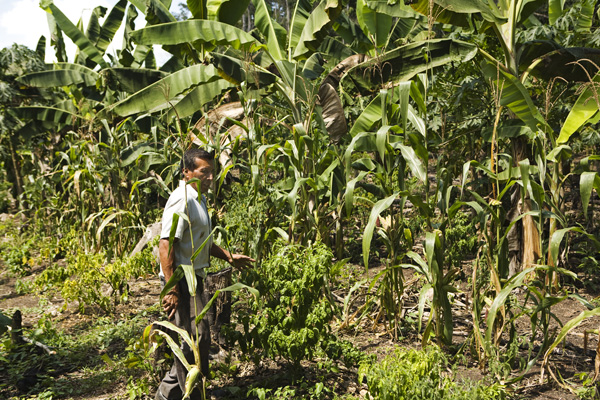 "Polyculture is agriculture using multiple crops in the same space, in imitation of the diversity of natural ecosystems, and avoiding large stands of single crops, or monoculture. It includes multi-cropping, intercropping, companion planting, beneficial weeds, and alley cropping.
Polyculture, though it often requires more labor [primarily when first planted], has several advantages over monoculture:
– The diversity of crops avoids the susceptibility of monocultures to disease. For example, a study in China reported in Nature showed that planting several varieties of rice in the same field increased yields by 89%, largely because of a dramatic (94%) decrease in the incidence of disease, which made pesticides redundant.
– The greater variety of crops provides habitat for more species, increasing local biodiversity. This is one example of reconciliation ecology, or accommodating biodiversity within human landscapes. It is also a function of a biological pest control program.
Polyculture is one of the principles of permaculture."
"Agroforestry is an integrated approach of using the interactive benefits from combining trees and shrubs with crops and/or livestock. It combines agricultural and forestry technologies to create more diverse, productive, profitable, healthy, and sustainable land-use systems. A narrow definition of agroforestry is "trees on farms."
There is some evidence that, especially in recent years, poor smallholder farmers are turning to agroforestry as a mean to adapt to the impacts of climate change. A study from the CGIAR research program on Climate Change, Agriculture and Food Security (CCAFS) found from a survey of over 700 households in East Africa that at least 50% of those households had begun planting trees on their farms in a change from their practices 10 years ago.[6] The trees ameliorate the effects of climate change by helping to stabilize erosion, improving water and soil quality and providing yields of fruit, tea, coffee, oil, fodder and medicinal products in addition to their usual harvest. Agroforestry was one of the most widely adopted adaptation strategies in the study, along with the use of improved crop varieties and intercropping."
Image credit: Polyculture Design