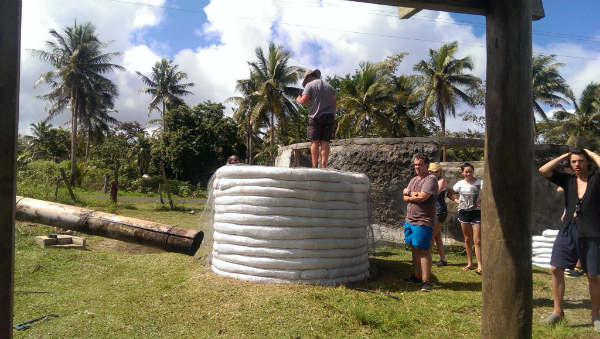 For decades it's been my dream to visit developing countries and help build affordable housing projects. Now, here I am on the beach in beautiful Vanuatu to assist the Women's Centre (and others) on various sustainable building projects.
Current earthbag projects in the works here on the island: C-shaped lockable storage room attached to the roundhouse, water tank and disaster resistant earthbag house. The earthbag house features two small bedrooms that serve as safe rooms during earthquakes and hurricanes, and a future larger open room for socializing and cooking built primarily of lightweight materials on an earthbag foundation. We're also trying to build a new roof on the Women's Centre as well as finish the plaster, doors, windows and painting so it can be opened to the public. Plus, we're making a toilet for a nearby family. Please stop by if you're in the area!
I plan to be working on various overseas projects in the coming months. Being directly involved in projects really stimulates the creative process for me, and helps insure more reliable results. Contact me if you have a project in mind in Southeast Asia.
Contact Liz if you'd like to contribute in some way: Search our blog for previous stories about earthbag building in Vanuatu.