The Fleming College Sustainable Building Design & Construction Progam project in 2008 was the Madoc Performing Arts Centre. Students of this annual summer program constructed a sustainable performing arts center in Madoc, Ontario, Canada. Since 2005, students of this program have been building sustainable public buildings for host communities. The buildings mix low impact, low technology materials with high-tech mechanical and energy systems.
The basis for the foundation for the Madoc Performing Arts Centre is a rubble trench. This type of foundation uses compacted stone in an excavated trench to provide bearing capacity for the building above. They used a grade of crushed limestone called "3 inch minus" which includes any aggregate that would fall through a 3 inch screen. The bottom of the trench has a drainage tile running in it, which slopes to carry water away from the building.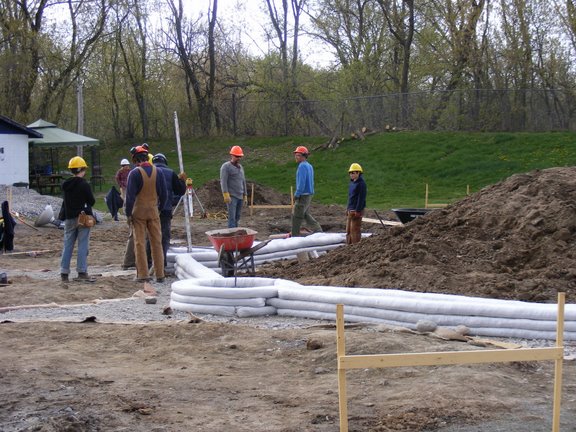 The earthbag grade beams that supports the main octagonal space are composed of woven polypropylene sack material that were obtained as a continuous tube. These tubes were filled with a site soil mixture of gravel, sand, silt and clay and then compacted firmly. Barbed wire is run between each course of earthbags to prevent slippage. They used two parallel runs of narrow bags with insulation (hempcrete) between the runs. Earthbag foundations are very low cost, and are strong enough for a large building like this. They are quite easy to build as they don't require formwork.
For more photos and description of this project and its foundation, see www.earthbagbuilding.com.