There is an ongoing debate over the origins of earthbag building — who 'invented' it and when.  It is an important point that gets into sticky questions about patent rights of building with earthbags.
Some accounts of military sandbag structures go back over 100 years.  I haven't seen pictures of these, but a recent Google search turned up lots of images of sandbag (earthbag) structures that were built during World War II and the Korean War.  Most photos were of crude sandbag-reinforced trenches and gun fortifications.  However, I discovered several interesting photos of well-made sandbag buildings that pre-date modern sandbag structures by several decades.
The photo below shows a bunker with straight walls, a door and at least one simple window.  It's nothing fancy, but it does document how military sandbag structures were used (and lived in) decades ago – in this case, over 50 years ago.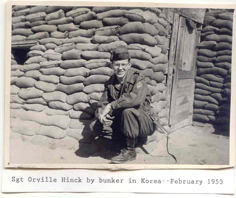 Here's a quote from the news article associated with the photo: "The bunker in which Sgt. Orville Hinck and his comrades lived was made out of old railroad ties and sandbags that would provide some safety from exploding enemy artillery shells."
Kelly Hart goes into more detail on the history of earthbag building at www.earthbagbuilding.com/history.htm.
Photo courtesy of Orville Hinck (from Korean War, 1955)
Photo source: www.sedaliademocrat.com/onset?id=1382&template=article.html