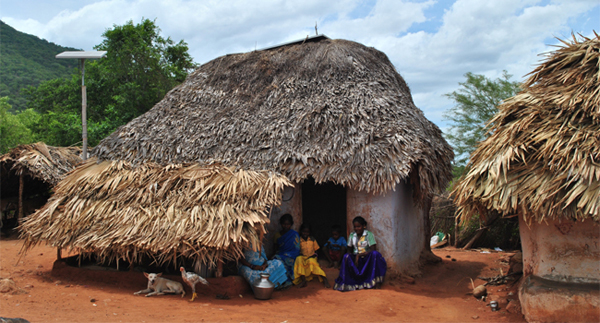 Solar Villages: The Need
– According to the Planning Commission of India, more than one third population of India live in off the grid areas and an equal number of people live in areas with unreliable grid electricity and frequent power cuts.
– Last mile connectivity missing and when present, reliability is a huge issue.
– These villages survive on petromax, kerosene lamps which adversely affects their health.
– Also has severe repercussions on occupational income and the education of children because of the dimness of the light
– For the same level and quality of light, kerosene is 325 times more expensive than a standard incandescent bulb and 1,625 times more expensive than a CFL. [And even greater difference for LED lights.]
– Solar energy offers decentralized, clean and over the long term cheaper source of energy.
A Solar Village Bommalapura, Mysore, India
– Bommalapura-remote village 65 km from Mysore.
– Whole village previously unelectrified despite having grid line pass through.
– Populace were small farmers who worked as daily labourers in the off-season.
– Intervention: SELCO in partnership with a prominent rural co-operative bank provided 28 families with customised LED light systems with the families being able to pay off the cost in 5 years.
Story featured in Deccan Herald March 2, 2010 under headline 'From Darkness to Light' [I couldn't find the story after a quick search.]