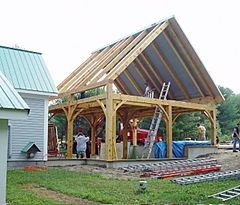 "Shelter Institute classes will empower you. For over 35 years, we've been teaching people how to build, renovate, general contract, or simply how to live better in their homes.
We take a common-sense approach toward teaching and building. You'll learn by experience. We integrate timeless tools and traditional techniques with cutting-edge knowledge and technology.
At Shelter, we have been evolving durable, adaptable, energy-conscious building techniques since 1974."
Shelter Institute
I've heard they sell the finest timber frame tools at their store in Woolwich, Maine.