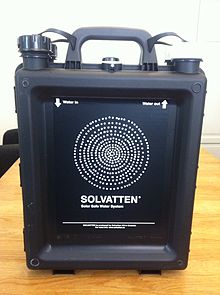 "Solvatten: reducing deforestation, soil erosion and CO2 emissions
SOLVATTEN is a combined water treatment and solar water heater system typically used in situations where water resources are scarce and prone to contamination. It enables children and their families living without safe water to improve their quality of life. Built to last an entire childhood, the SOLVATTEN solution brings lasting change.
Our impact
The benefits of SOLVATTEN have been documented over many years through projects around the world. SOLVATTEN is currently active in 45 different projects with various international partners. 18 of these are based in Kenya, 9 in Uganda, 3 in Tanzania and the rest in 15 other countries. With more than 120,000 users across the world, we are proud of the positive impact SOLVATTEN has on people's lives everyday. The exceptional thing with SOLVATTEN is how much people value their units – we believe this is key to bringing lasting change.
Based on projects past and present, these are just a few of the benefits we hear about from SOLVATTEN users:
• Better health due to safe drinking water and improved hygiene practices.
• Reduced medical treatment costs and fewer sick days.
• Fewer burn injuries and problems associated with smoke inhalation, as families burn less wood and charcoal indoors.
• Time savings – less time collecting firewood and less time tending to fires.
• Huge economic savings associated with a reduction in fuelwood purchases.
• Positive environmental impacts – carbon savings, reduced deforestation and soil erosion.
• People have time to invest in income generating activities.
• School attendance increases as families are less dependent on children to perform household tasks."