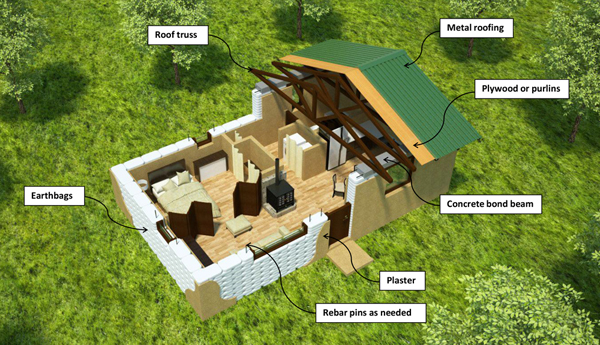 My new house plans book covers my most popular house designs. These houses are low-cost, DIY, sustainable house designs, many of which can be built for less than $10,000 if you use locally sourced materials such as earthbags, straw bales and recycled wood.
Each house plan includes a full-page 3D cutaway drawing (similar to the one above) that shows the home's interior and how it is built. This is one of the best features of the book, because it takes two dimensional drawings and turns them into colorful, realistic images that are much easier to visualize. If you order one of these plans from Dream Green Homes.com the full-sized cutaway drawing is included at no extra charge.
This new PDF ebook is now available online from a high speed download site for just $20. Click here for ordering information.
Click here to read more about this book. This book was a two year, two thousand hour labor of love project, so the quality is high.