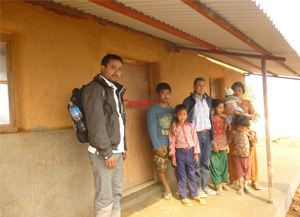 From Roger, the inventor: "Steadfast Nepal just bought five earthbag machines (mini Earth Home Builders). This will help speed up home building at least 4 X faster / home. These units are not powered by skid steers as they have electric motors and gear boxes. They are light weight and allow the remotest villages to build with use of a power generator. They are called MEHB mini earth home builders and with help of Steadfast they were custom built for needs in Nepal. We hope to get the skid steer unit to Nepal in the future as they are the fastest way to build but of course the poor roads and lack of funds are slowing this down."
"It took some ingenuity, teamwork and a few kindhearted souls to rebuild a house that was destroyed by the earthquake in Nepal in April last year. And after just 24 working days, Uttam Bahadur Tamang's family of five now have a roof over their heads, and an earthquake-resistant one at that.
Farmer and truck driver Uttam, 29, had been staying in a temporary shelter since his house in Lamagaun, Bhumeshthan-6, Dhading district, was flattened by the earthquake. But thanks to the collective efforts many parties, they now live in an "earthbag house" which has been picked as a model for construction in other earthquake-hit villages in the district.
The walls of the house are built of sand and gravel packed in plastic bags [rice bags] and stacked on top of one another. The walls are then secured with metal wires, and plastered with either cement or mud. This "new technology" house can be built with local resources at minimal cost.
This innovative reconstruction was a joint effort by missionaries of the National Mission Commission of Nepal (NMCN), government officials and the Uttam family. To inculcate a sense of ownership, Uttam was required to contribute two workers to help the hired hands. He also had to feed the workers every working day. The house was built with the financial and technical support of Steadfast Nepal Pvt. Ltd.
"All the villagers were amazed to see this speedy completion of a house with new technology at minimal cost. They are looking forward to adopting this model for rebuilding their houses," said AsiaCMS co-mission partner Ram Prasad Shrestra."
More at the source: Asia CMS.net