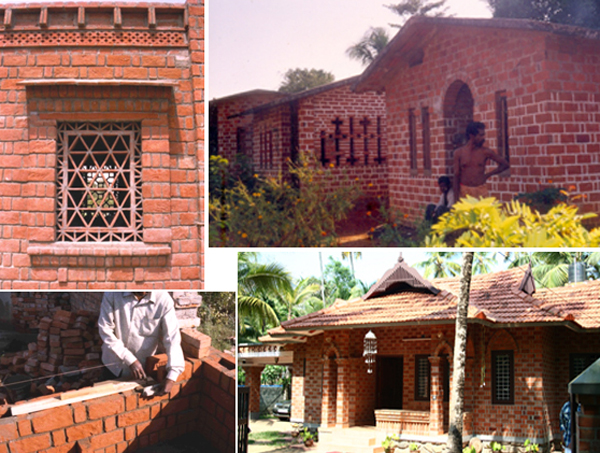 Do you have a sustainable building network in your area? If you do, it will make the process of building with alternative materials much easier. These networks pull together all sorts of key information to guide people through the building process. Here's an example of a sustainable building network I stumbled across in India called the Rural Housing Knowledge Network (RHKN)
"RHKN is a community for sharing, learning and disseminating information and experiences pertaining to rural housing. RHKN portal is a community platform for various stakeholders in rural housing – rural families, masons, small scale building entrepreneurs panchayats, block and district administration, state and central government officials, voluntary organizations, architects, civil engineers, and financial institutions. RHKN portal is a knowledge bank comprising technology solutions, experiences, publications, technology demonstrations and other information of use to aspiring home owners as well as practitioners of rural housing.
The main aim of the initiative is to provide knowledge resources to rural home owners to build safe, sustainable and cost effective houses using conventional and alternative technologies. One of the key outputs of the initiative is a web based knowledge portal that consolidates knowledge on house construction and allied human resources and makes it available to the rural households in an easily comprehensible and usable format."
The RHKN website has lots of resources, including a well stocked library, case studies, an online cost calculator, publications, featured technologies, contact information for green building professionals, a list of partners in the network and much more. Here's a list of partners in Karnataka, just one state in India. Is there any doubt that sustainable building isn't growing like crazy?
Center for Sustainable Technologies (ASTRA)
Main activities include biogas, fuel-efficient stoves, water purification, renewable energy, alternative building materials and low-cost building technologies.
Wondergrass
They provide complete bamboo housing packages, bamboo housing components, consultation and design.
Centre for Green Building Material and Technology
Resource center for green technologies such as bamboo and other cost effective materials.
Biome Environmental Solutions
Biome offers architecture and design services, promotes roofwater harvesting, etc.
Centre for Ash Utilization Technologies and Environment Conservation (CASHUTEC)>
Manufacturer of fly ash building products such as door and window frames, jalis, blocks, etc. and mason training.
National Institute of Engineering, Mysore
Testing and consulting, as well as offering a broad range of engineering degree programs.