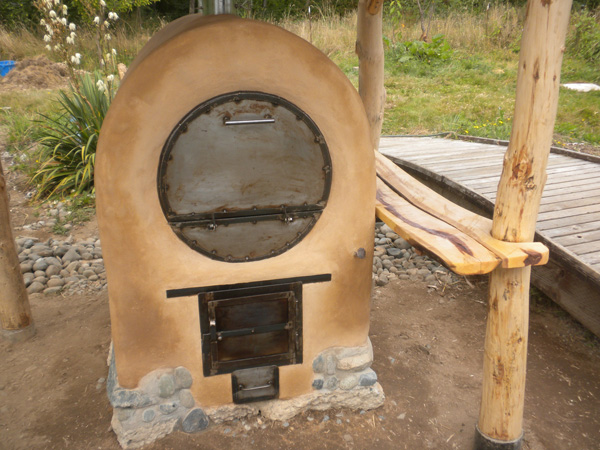 The best ideas are immediately recognizable, and that's certainly true with this amazing new barrel oven by Max and Eva Edleson. Here's an excerpt from a book review about their barrel oven by Ziggy at Year of Mud blog.
"There's an up-and-coming outdoor oven out there: the DIY, wood-fired barrel oven promises some pretty compelling advantages over a cob or masonry oven, and it is the subject of Max and Eva Edleson's latest Build Your Own Barrel Oven book. It's the first I've heard of this particular design, and I must say, it has definitely captured my attention, and the Edlesons' book does a fantastic job describing the plans and construction process of these relatively simple, efficient pizza and bread-baking wonders.
Have you been considering building an outdoor oven setup of your own, or are you intrigued by the idea baking pizza with wood heat? Read on for my review of the book and a better understanding of the advantages of building your own backyard barrel oven.
Bake Pizza and Bread in This Outdoor Oven… Quickly
The barrel oven is, well, exactly that. It's an ingenious oven built around a horizontal metal drum, wood fired, and relatively simple to build, with few specialized materials — in fact, it can be built largely with recycled and easily available items. Think barrel, bricks, chimney, mud and sand, stone or cinder blocks, and a few other materials. It's still a somewhat uncommon design, especially compared to wildly popular cob ovens, but as the book describes, the barrel oven offers some very distinct advantages over its kin.
The main advantage, quite obviously, is that you can bake within 15-20 minutes of lighting a fire. Now, if you are familiar with cob or earthen ovens, you'll know that these usually need at least 3 hours of firing in order to use.
Be sure to check out the Build Your Own Barrel Oven book here. Max and Eva also offer barrel oven kits for aspiring builders!
Highly recommended."
Our previous blog post on barrel ovens seems to have vanished during the transition to new servers. Here's a link to the barrel oven at Kleiwerks.