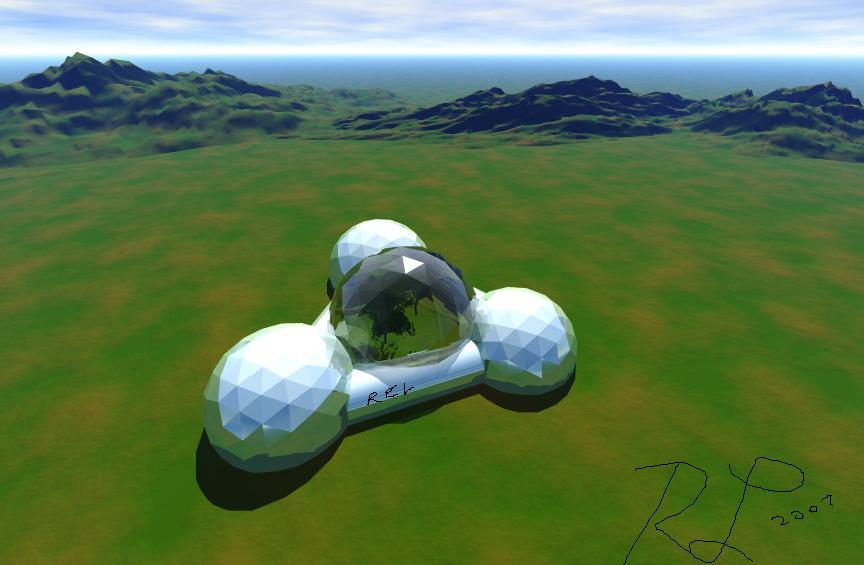 I've been corresponding with Richard Laurens who is developing a geodesic dome design that rests on earthbags and is covered in earthbags. His original plan was to use rammed tires to support the domes, but now he's convinced earthbags are more practical. I'm encouraging him to use scoria-filled bags since he plans to build his designs out west near a source of scoria.
I'll let Richard describe his project in his own words.
The Dometown project is a name I gave to my plan for a small cluster of dome shaped homes. I would start with one, and keep on building them. The center clear parts are greenhouses.
Buckminster Fuller's original idea was a home that could be built anywhere for cheap; why not expand that idea into a "life pod" that can recycle water and grow its own food? The basic premise is this: We have a water source, an "eternal" power source (wind, water, or solar), and very contemporary and comfortable self-sustaining dome home. It's just a very simple solution, and expandable.
The geodesic, or monolithic dome structure is not only appealing to the eye, it is efficient and cheap to build. The dome numbers and designs are nearly limitless, and four simple domes with a fifth dome in the center would make an excellent home with about 2500 square feet of space. That is a good sized home! I estimate working by hand with minimal tools. I can make this house in about a year for around $20,000.
The dome is a 4th degree electrical conduit pipe dome, bolted at the vertexes and welded. I then cover the dome with wire mesh and stack the bags on the outside. The windows are standard ones, placed into a 'work horse' type of sconce.