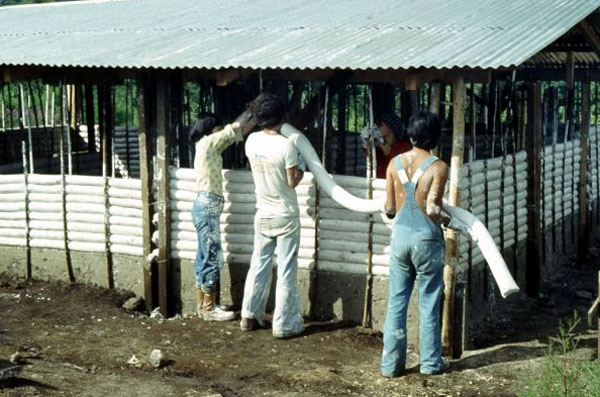 As many readers know, my passion is promoting very low cost housing that virtually anyone can afford. Earthbag is a natural option for housing the poor, however the thick walls take up a disproportionate amount of space on tiny urban lots such as in slums, and the hard work deters some. Thin walls have a lot of advantages. That's one reason Dr. Anderton's E-khaya housing system with narrow earthbag tubes caught my eye. I'm now considering how to adapt this basic method for wider use.
This is not exactly a revolutionary idea. The building method goes back to the original earthbag houses built by Gernot Mincke in the 70's. (Other than the military, Mincke was the first to build earthbag houses as explained on our History page.)
The concept is so fast and simple that this could readily catch on with earthbag builders. A 10'x12′ room could easily be built in 5-6 days. Kelly and I and others have steered earthbag building toward thick, self supporting walls. That's fine if you need lots of insulation and have adequate space. But many people complain about the thick walls taking up too much space in crowded cities. This is where Mincke's original idea really shines!
Thin wall earthbags will work on most simple house designs. That includes rectangular houses, round, organic shaped, all types of roof designs, whatever. Ex: someone has a plan designed for CEBs or wood walls. They could use that plan and just replace those materials with thin wall earthbags (narrow tubes).
Here's the basic building process using the materials we have:
Use 3″ wood poles at corners and on each side of door and windows. (24" spacing on larger structures.) Wrap the bottom of poles in plastic and set in small post holes filled with concrete. Screw 3″ poles along the bottom and top between posts and around door and windows. Then attach diagonal 3/4″ wide bamboo lath to the poles with a nail gun. Make tubes in advance. Various types of fabric and any number of fill materials (lava rock, etc.) could be used. Sand is ideal in some ways, particularly for poor areas. It's freely available and can be poured in the tubes using a funnel (much easier than working with soil that clumps and compacts). Sand will naturally stiffen when the tube is full and won't turn to mud if wet. Tie the tubes to the lath with twine or wire. Add the roof (we would use recycled wood, but could use bamboo, etc.). Metal roofing is good. We'd use microconcrete roofing tiles (MCRs). Then add the door and windows and plaster. Optional fishing net (very cheap) could be stretched around the outside. Optional perlite or other type of insulation such as recycled ground foam insulation could be added as shown by Dr. Anderton.
Lightweight, thin wall earthbags is a game changer in part because it empowers women to build their own homes. Typical earthbag building is labor intensive. Thin wall earthbag is around 10 times faster and easier.
The cost of this system is a huge plus. Fewer materials means lower costs. Faster construction means less labor.
Now I'm considering another workshop, maybe in December 2014. There's nothing definite at this time. I thought I'd propose this to readers to see how many people are interested. What do you think?
Image: History page at Earthbag Building.com