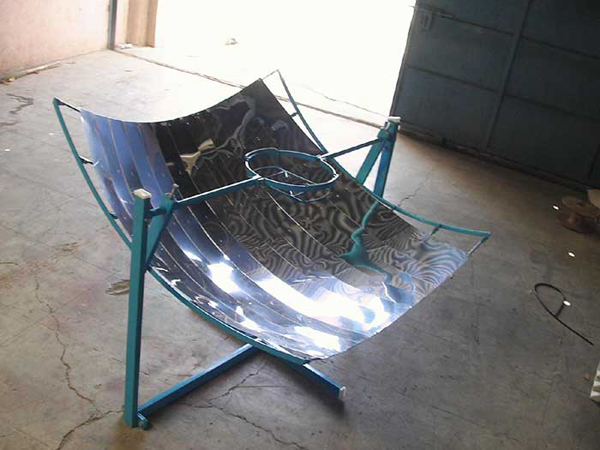 "Tiny Tech Plants is a manufacturer of a wide range of renewable energy devices including domestic and community solar cookers.
Tiny Tech Plants: "promoting tiny enterprises in various industrial fields, through human technology for rural development, local self reliance, poverty eradication, exploitation removal, employment and income generation by breaking company centered economy & promoting family centered economy all over the world.
Recently I have developed unique small community parabolic solar cooker which is very much suitable for refugee camps, mid day meals, schools, hostels, hotels, restaurants, hospitals, offices, small factories, clubs, associations, communities, small home scale cooking related business, etc.
Its unique features are:
– This is the cheapest and the first folding community solar cooker in the world.
– It can be packed into cartoon box of size 40″ x 12″ x 6″ (1/150 of assembled volume).
– 20 cookers fit in 1 cubic meter. A 20 ft container can hold 400 community cookers.
– 10 kg of rice cook in 50 minutes, so from 9 am to 5 pm, you can cook about 80 kg of rice.
– One cooker is suitable for 30 to 40 persons.
– Net weight is 57 kg. With cartoon box, it is 60 kg.
– Assemble the entire cooker in 30 minutes. Tying reflector strips takes further 60 to 80 minutes.
– The reflector is 2 meters x 1.5 meter = 3 sq meters. Concentration is equivalent to 50 suns.
– The entire cooker is powder coated in attractive colours."
COST US$ 240
Source: Tiny Tech Plants
Source: Tiny Tech Plants