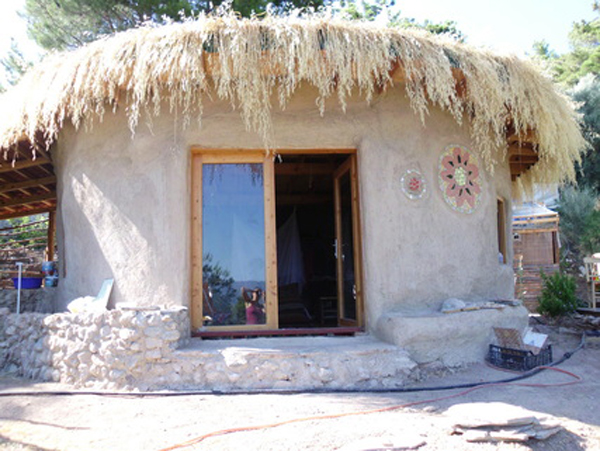 Two years ago I found myself living alone in a tent in the Turkish hills. There was no power or running water on my land. It was the beginning of an adventure that profoundly changed my beliefs about what is possible, or enjoyable. In this site I share a few of the things I learned along the way, such as:
– How to make a cheap eco-home for yourself with zero skills.
– How to live completely off-the grid.
– That your best friend is the Earth (honestly).
This site also includes some of the creative writing that the experience inspired.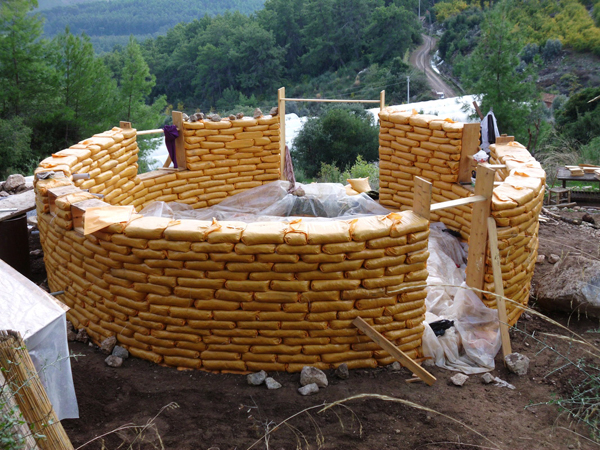 Earthbag is IDEAL for roundhouses. If you're in a seismic area like most of Turkey, then round is the way to go. Round is not only aesthetic and soothing to the spirit. Circles are the strongest structures you can build. Cars have been known to hit earthbag roundhouses with no more than plaster damage. Mine has survived a 6.1 earthquake and is in exactly the same condition it was when I built it.

I didn't even know what a joist was when I started this project, so if I can do it, anyone can. You don't need prior knowledge. You can learn the skills. But you do need to be flipping determined, flexible and a motivated team really helps.
It took 6 weeks to build this earthbag home and cost around $5000. There was no power or running water on the land.
Read more at the source: The Mud/Mudart/Mudhouse
(Lots of fascinating, well written info on this site. Highly recommended.)
Previous blog post: Earthbag House in Turkey Survives. 6.1 Earthquake