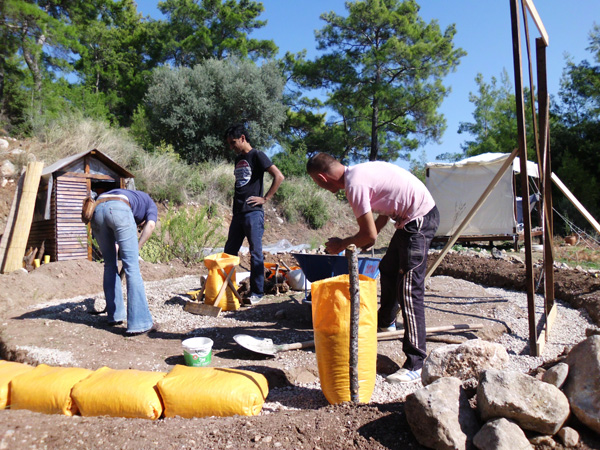 Earthbag Foundations for Soggy Seismic Areas
By Kerry Bingham
As far as I know, mine was the second earthbag structure to be built in Turkey, and it was met with widespread skepticism. With frequent earthquakes, severe flash-flooding on the south coast during the winter months and rising damp, many thought the house would either 'melt', slide or be shaken to the ground.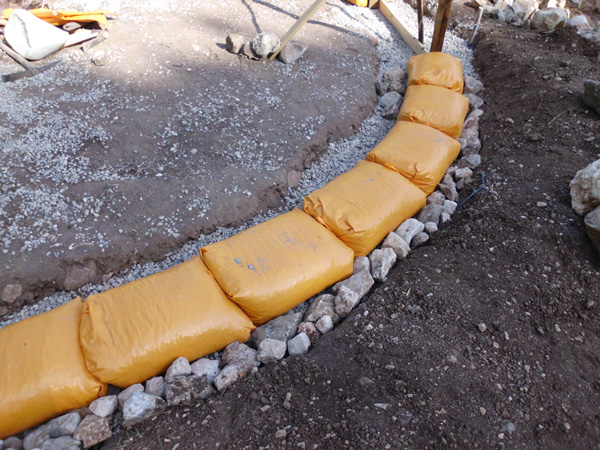 Finding the right foundations was crucial. To complicate matters my project had a goal of zero concrete and I had zero building experience. After some frantic research I decided to try a stone and gravel filled trench with gravel-filled earthbags for foundations. The house has a diameter of 6 metres and is circular for maximum strength. After a winter of deluges, unprecedented freezing nights and last week a 6.1 earthquake, the house is still standing not only strong, but dry. To the consternation of every builder in the area I had laid a juniper wood floor about 20cm above the ground. It is still bone dry underneath. The rubble acts as an excellent sieve and any rainwater simply washes around the foundations and out. For wet areas gravel is definitely the way to go.
Here is how we did it:
1. We dug a trench half a meter deep. It was wide enough to allow 15cm on either side of the earthbag to prevent water wicking up.
2. The bottom 2/3 of the trench was filled with smallish rocks from the surrounding land.
3. The rocks were covered with a layer of smooth gravel to prevent the PP bags (polypropylene) ripping.
4. Standard PP sacks were "double-bagged" (one bag inside another) before filling with gravel.
5. We found we had to 'nail' the bags shut (pin the ends closed with nails) or the gravel fell out. (Seemed to work)
6. Two layers of gravel-filled bags were laid with barbed wire between courses. The first layer started below the existing grade, the second layer above the existing grade.
I would have preferred to do 3 layers of gravel bags, however we ran out of gravel. Two seems to have worked just fine though. We didn't add a French drain.
Original post (written by Kerry Bingham without proper credit…sorry!)
Off-grid Earthbag Home in Turkey