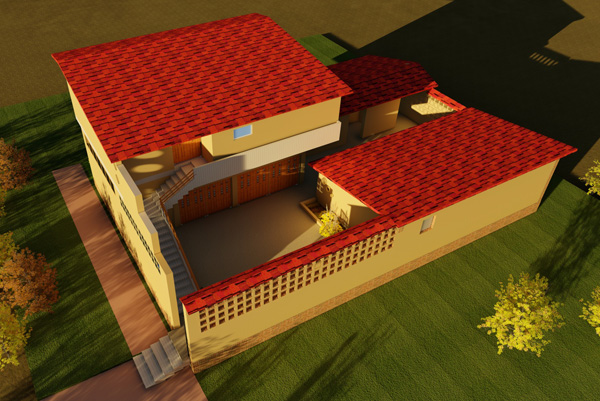 Sacred Earth Trust (SET) is an NGO based in Bodhgaya, Bihar, India working on sustainable development in Sacred sites, headed by Lillian Sum. The main focus has been on developing environmental education through practical eco solutions.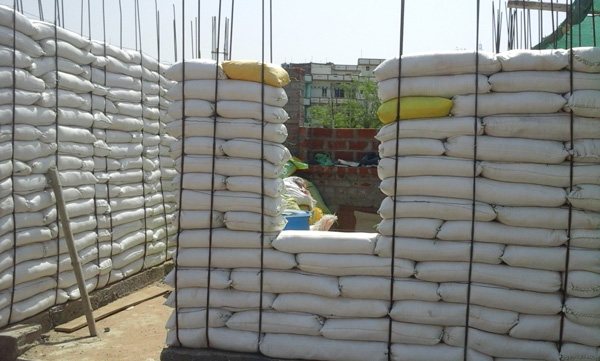 SET has been building an Eco training and plastic up-cycling centre, that introduced hybrid design concepts to demonstrate low cost effective technologies which are also earthquake resilient, insulated and easily accessible for local adaptation.
The Earthbag concept was introduced and modified to suit the local needs. To address issues regarding availability of space the 'Thin-bag' was adopted for local use to construct the office and machine rooms on site. Instead of using the original earthbag of 18" inch width, the method was adapted and resulted in 12 inch width wall. This not only contributed towards the reduction of the total cost by using less earth, manual labour and materials resources, cement, rebar, chicken wire netting and plaster work, it resulted in the reduction of embodied energy of the overall carbon footprint of the construction process, whilst still providing the earthquake resilient and insulation properties required. SET has been working in partnership with UNDP, MEFC, CEE, GEF on the eco and plastic up-cycling centre infrastructure development.
For more info on projects: Lillian Sum
Sacred Earth Trust