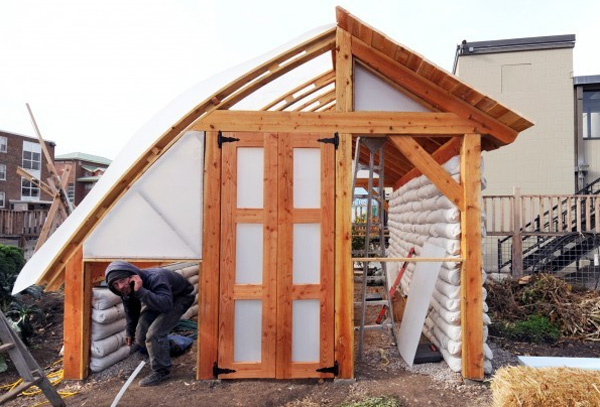 "A subcontractor with Bad Goat Forest Products, Braverman was just hours away from finishing what many believe will be the first passive solar greenhouse in Missoula.
"The idea is, the sun will hit the earth bags all day long and during the night, they'll radiate back the heat and maintain a more even temperature," said Braverman. "They're thinking they'll be able to use this all winter."
Framed with sustainable Montana wood products, walled with bags of dirt and roofed with two-ply Solex panels, the greenhouse should extend the growing season by months, boosting the yield of the university's campus garden.
Not unlike a strawbale house, the walls are stacked with sandbags filled with dirt. The roof's south-facing slope, covered with two-ply Solex panels, is angled to catch the winter sun.
The transparent panels allow sunlight to filter in, trapping the heat while warming the earthen bags. When the winter sun fades and the cold sets in, the bags of dirt should serve as a heat sink, releasing subtle warmth back into the room.
"Because of the passive solar design, we hope to have enough heat in the winter to grow cold climate crops like kale, lettuce and spinach for the salad bar," said Ian Finch, the program coordinator with UM Dining Services. "It'll be a place to start all our seedlings for this campus garden."
Excellent find by long time reader Chris. He wrote "To me this is a pretty ideal design for extreme cold. I give it two thumbs up for the Chinese hoophouse shape, use of solexx, thermal mass, community involvement, and execution of craftsmanship. Personally I'd consider: backhoe trench it in the ground; maybe glaze the northern pitch with removable shading & insulation; self tap the solexx into metal fence tubing hoops; and have the end walls able to completely open up. Maybe a 6′ shed roof overhang off the north."
More at the source: Helnair.com