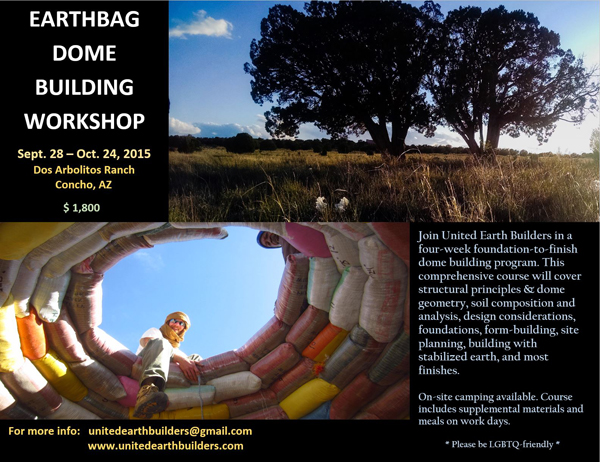 September 28th – October 24th 2015
"Come join United Earth Builders in Concho, AZ for a four-week workshop in which you will participate in building a 12′ diameter dome from start to finish. We will be focusing on foundations, earthbag/superadobe applications and climate-appropriate design, dome geometry, form-building, door and window installation, and plaster work.
We expect to complete the construction of this simple dome home under the supervision and guidance of experienced earthbuilders and educators Fox and Yahmes. Participants in this course will be led through a series of intellectual, cognitive, and physical exercises that seek to strengthen mind-body connections to the technical and creative processes underlying the art and skill of earthbag design and construction. From instruction that includes lectures, slideshows, Q&A, and tons of hands-on activity, attendees will complete this course with confidence in the building process and a renewed sense of community and teamwork through building with earth and with each other."
Cost: $1,800.00 per person
For more information, interested people may email us at unitedearthbuilders@gmail.com and also visit our workshop web page.
Thanks very much,
Fox
United Earth Builders