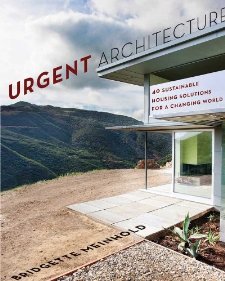 Urgent Architecture:  40 Sustainable Housing Solutions for a Changing World by Bridgette Meinhold was published in 2013 by W.W. Norton.  In this well illustrated and colorful book, Ms. Meinhold makes a good case that with the devastation and hardship incumbent with natural disasters and climate change, population growth, dwindling resources, poverty and conflict, we need to take a fresh look at appropriate architecture for these times.
In examining existing or proposed housing solutions, she has divided the book into five general categories: rapid shelters, transitional shelters, affordable housing, prefab housing, and adaptable housing. Within each category she introduces several specific examples that she feels address the needs expressed.
Rapid shelters are described as shelters that can be assembled in less than a day to provide protection from the elements for a limited amount of time. In evaluating her examples, she takes into account how they would be deployed, how long they take to set up, the skills and tools needed to assemble them, the cost, durability, security and reusability. In this category she examines eight shelters that are mostly industrial solutions; there is only one (a concept for using bamboo to form a framework that can be covered with tarps, etc.) that would be primarily created from natural, local materials. The cost of the prefabricated units range from $1,000 to $10,000 each, so with the added cost of transporting them to the disaster area, the affordability may be questionable. A great deal of cleverness has gone into the design of these shelters, and there is no doubt that they would be useful and welcomed in any true disaster situation.
"Transitional shelters" are any sturdy shelter that can help a family rebuild and expand as time and funds become available, or a portable shelter that can be moved as needed. Of the eight examples shown, most are industrial and prefabricated in nature, ranging in price from $1,200 to $25,000. One is a lovely traditional Mongolian yurt, costing between $5,000 and $12,000; one is a shelter made from a recycled shipping container and one is made almost entirely from recycled pallets. Compared to the cost of housing generally these days, these prices are certainly at the low end of the scale. I would say that the pallet house is the most affordable and sustainable of the lot. One shelter is a vault fabricated out of computer-cut OSB ribs that support corrugated roofing materials; unfortunately this design would create more wasted material than is actually used in the construction!
Then we come to "affordable housing," which is housing that can be built, bought, or rented by low-income families and that encourages energy-efficient and sustainable living. Represented in this category are a wide variety of projects ranging in price from $2,400 to $8 million; obviously affordability is relative to the situation. The most sustainable examples are the Gabion House made from earthquake debris in Haiti and simple strawbale houses with earthbag foundations constructed in Pakistan (these cost less than $5,000 to build.) A couple of houses shown were constructed from a variety of recycled or reclaimed materials, which is certainly a sustainable way to go. A collection of multi-family units was built in South Africa using the Eco-Beam technique of retaining small earthbags within a rigid metal and wood frame; these cost about $8,000 per unit. At the high end of the scale were two large apartment-style buildings costing over six million dollars each, one with a green roof in the U.K. and the other in China. The Chinese one is a huge, modern version of the traditional Chinese donut-shaped tulou buildings, but made with industrial materials, not the traditional rammed earth.
Prefab houses are homes that are partially or entirely built off site, transported to the site, and then assembled and completed. Prefab housing can be quite efficient in materials use and in energy consumption. I must admit that the examples given leave me rather cold in terms of architectural design, as mostly they are extremely boxy, rectilinear affairs, that are actually poorly designed for passive solar applications. One of them claims to be a net zero energy house, but it turns out that this is mainly accomplished by placing a large photovoltaic system on the roof. The cost of these units ranges from a low of $59/square foot to a high of $172/ square foot, which I suppose is rather standard these days in the U. S. Two of the houses were derived from shipping containers, one is made with salvaged wood, and one uses confined strawbale panels (actually the most expensive of all). The rest use rather standard industrial materials.
The last grouping of homes are labeled "adaptable housing" and described as homes that are designed and built with the express purpose of dealing with changes to our climate. The examples include quite a range of homes designed to withstand floods, fire, hurricanes and tornados, extreme heat, and lack of utilities. Most of these solutions are quite expensive (averaging $180/square foot) and generally built entirely from industrial materials. One house really stands out as accomplishing all of the goals for sustainable architecture, and this is a duplex designed for Bangladesh. It is built from bamboo, brick, recycled plastic bottles and lightweight concrete. The remarkable thing about the design is that the two dwelling units will float in the event of a flood! It even has a small solar electric system, rainwater collection, and compost toilets. All of this was actually built for a total of $10,000 ($12.50/square foot), and it is quite a handsome design.
So does Urgent Architecture live up to its title of showing 40 sustainable solutions for a changing world? I suppose that it depends on how you define "sustainable," but for me too many of the houses use too much industrial material with too much embodied energy;  too little attention is paid to passive solar design, and they cost too much to be truly considered sustainable. There are a handful of really sustainable solutions presented, and these are refreshing when they emerge. I do applaud the author and publisher in making this attempt at addressing a crucial issue of our time, and finding some fun, innovative, worthwhile, and provocative housing solutions to share.