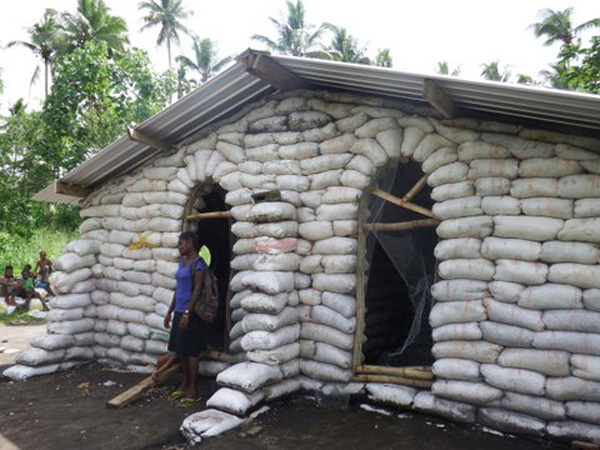 "This Vanuatu build was started with a little experience in what can go wrong and it made all the difference. Seven Australians aged 14 to 63 and four local men worked together with the wife and four daughters of a Ni-van waiter to build these two rooms in 14 days.
The work was very hot and wet, being right in the middle of the monsoon season. There was a dengue fever and malaria out break in the area we worked in so all care had to be taken with personal health. Two cyclones narrowly missed us during the build but we did get the deluge of rain that accompanies them. It's quite amazing that we were able to complete the project to the roofing stage in such a short time.
We will return to Vanuatu in 6 months to complete the extra 2 rooms of the house and build a separate shower/toilet block. We hope the design will be adopted by some of the aid programmes running in Vanuatu. The plan is to do some crowd funding for future work and to make a Step by step book in Bislama that the locals can follow.
The locals loved the design! We have dozens of new best friends all wanting us to build a house with them. We were stopped in the street and asked for house plans and our bus driver was stopped constantly by people asking "how can we get one of these houses?" I think he made a little extra bringing people out to see the work."
Liz
Search for keyword Vanuatu for previous blog posts about their earthbag community center.