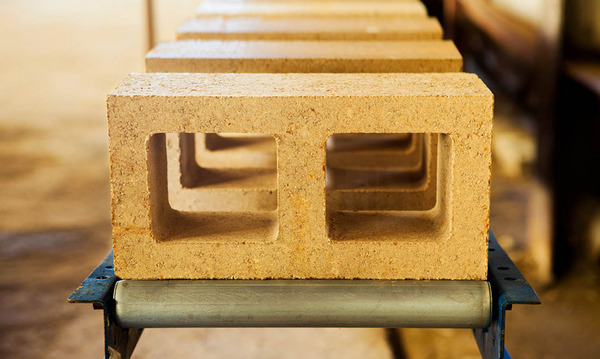 California-based startup Watershed Materials, with support from the National Science Foundation, has spent the last four years researching and developing a concrete alternative. Currently, their studies have produced a masonry created with natural, mineral based geopolymers, that has incredible strength and very low-carbon footprint.
The base of the material lies within the use of natural clays, found locally across the entirety of the earth. Watershed's research discovered properties within these soils that could potentially be activated in geopolymer reactions. The minerals had been previously overlooked for their lack of immediate binding capabilities; a problem solved by changing the clay's chemical structure. The result is a long lasting, high-compressive strength, weather-resistant concrete alternative.
Rather than relying on industrial waste products, watersheds' technology utilizes its surroundings. Natural clays — previously, waste — sourced from quarry and mining operations, construction site excavations or demolitions can all be activated to form the material. Unlike conventional concrete which relies on virgin mined rock that's washed of all color variations, watersheds' alternative celebrates local diversity. Thus when produced in say, Estonia, the result will look different then what's made in Brazil. Homogenization be gone!
Obviously, its acceptance in the building community relies on its practical value. During compressive strength testing, the current technology failed after an exertion of 100,000lbs of force. Essentially, this equates in a compression capacity of 7,000psi — twice the strength of ordinary concrete and 350% stronger than typical requirements. Thanks to chemistry used in the process, the clay-based masonry is also highly resistant to shrinking and swelling caused by dry-wet cycling. Also unlike conventional materials, is the temperature required to make it. Waste heat from manufacture is so nominal compared to traditional methods, that almost all of it can be reclaimed and used again."
Read more at the source: Design Boom
Special thanks to Jim for finding this story.
Don't hold your breath waiting for this to appear in your local building supply center. My Geopolymer House Blog documents numerous similar geopolymer products that have been struggling for years to come to market with competitive pricing. It's true, geopolymer is stronger, faster setting, has higher chemical resistance, is more durable, more fire resistant and has lower environmental impact than typical concrete. The biggest obstacle seems to be getting hundreds of millions of dollars to develop a processing plant that's competitive with Portland cement. It's a daunting challenge to compete head on against giant cement companies. One possible workaround is making your own geopolymer with local materials. My blog lists quite a few recipes that I've gleaned from the Internet. The trouble with this approach is it takes a lot of testing and experimenting to come up with a suitable mix. Another business possibility is developing a small batch plant system that could be licensed to investors. So in summary, geopolymer still isn't practical yet for most natural builders even though I firmly believe it's the wave of the future. Check local companies to find out current prices. Every geopolymer company to my knowledge is listed on my geopolymer blog.