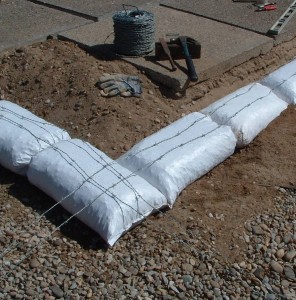 Guest post by Patti Stouter about another low tech way to reinforce corners in earthquake zones. More methods are explained at EarthbagStructures.com:
"Corners are one of the most vulnerable parts of buildings in earthquakes. Straight wall earthbag construction has not yet been tested on a shake table or in a severe quake. It may absorb vibrations, but we don't know for sure yet. Builders need to exercise all caution and build well to save lives.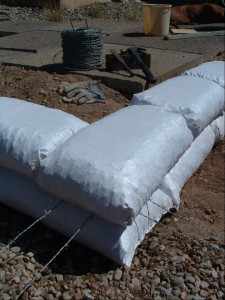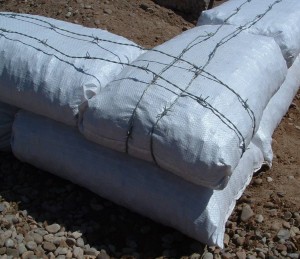 Earth building expert Fred Webster has seen earth building weaknesses over and over again in damaged buildings and shake table experiments. In his opinion, the corners of earthbag buildings are vulnerable to damage as a quake accelerates a building in one horizontal direction. Tremendous force can be exerted on a corner to pull it apart. This force could pull wire toward the inside of the corner and allow the bags to separate. Bending barbed wire around the corner is better than ending the wire at the corner, but he thinks it is not good enough.
The same kind of detail used in rebar reinforcement for other earth techniques can be applied to earthbag. I call this new detail weaving wire. Barbed wire should be cut to extend 24″/ 60 cm past each corner. When the next course is laid and tamped, tightly pull this extra wire back up onto the upper course. Then lay the next set of barbed wire, extending again out past the corners. We all have great hopes for earthbag as a cheap way to allow the world to build sustainably and safely. But we need to build wisely in seismic risk areas, or engineers will (rightly) insist that it is unsafe and must be heavily reinforced. Heavy reinforcement makes any earth material less sustainable, and much less affordable. Lets use just bags and wire to make the strongest buildings possible.
Source: Patti Stouter – Simple Earth Structures
Patti's Workshop in New York
"I am running a single earthbag and lime plaster workshop in NY on May 12 from 9:30- 3 pm. It's the only one I'll do this year, and it's filling up fast. People can sign up for the workshop online. We'll get to see how the lime plaster on my shed weathered NY's wet climate so far. I hear it looks great.
I also did a skype lecture for the Dartmouth engineering class associated with the $300 House Contest. I have posted the slideshow online here. I would be happy to do some skype discussion with any engineering professor or student considering earthbag or Ubuntu or wattle. I will visit Dartmouth in May also to answer questions and give advice about their projects.
Patti S