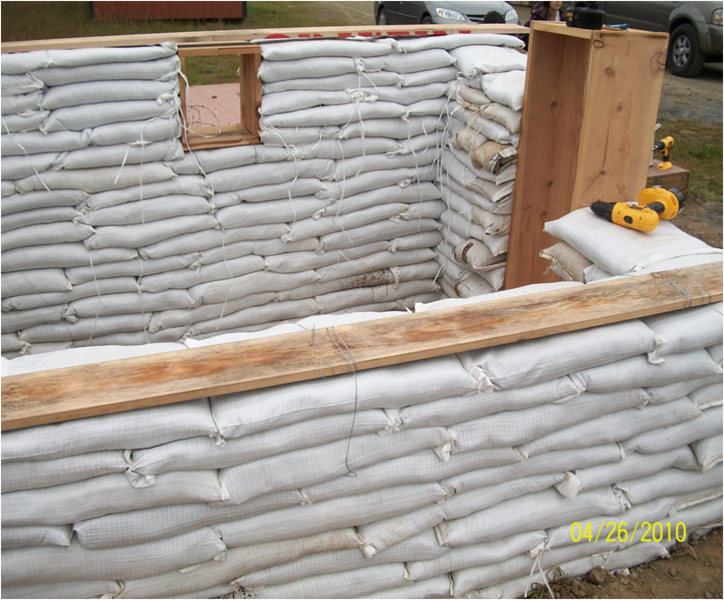 Today's post is from the World Shelters website at Appropedia.org.
Bags of Shelter is an earthbag shelter designed for World Shelters to use as transitional shelter for people in Haiti affected by the January 2010 earthquake. World Shelters is a non-profit organization dedicated to producing housing for disaster relief and general humanitarian needs. A four person design team, Humangineers, designed Bags of Shelter as part of Lonny Grafman's Introduction to Design class at Humboldt State University.
This project was done for our 12-week assignment for Introduction to Design for the Spring 2010 semester. Our client, World Shelters, asked Humangineers to use dirt as a resource in order to provide transitional housing for the people of Haiti. Seven criteria were established by World Shelters and they include: Level of Safety, Use of Local Labor, Durability and Repairability, Ratio of Dirt of the Structure, Cost, Ease of Mass Production and Ecological Impacts.
Humangineers recommends Bags of Shelter because it is a suitable design for World Shelters and meets the client criteria. Bags of Shelter uses dirt as a primary building resource. The design also provides a way for Haitians to stimulate their local economy by making barbed wire and also by building the entire structure itself. Overall, Bags of Shelter is a functional design for transitional housing in Haiti. Humangineers recommends the use of lime plaster as an exterior coating for the structure. The total projected cost for Bags of Shelter is $272.81.
Complete article is at World Shelters Bags of Shelter.