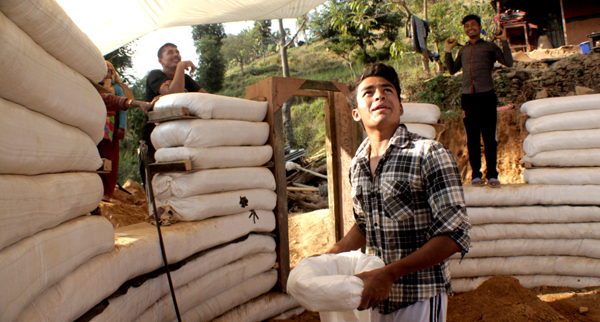 Vision of Woven Earth: A sustainable world of people interwoven with nature. Our mission is to foster community resilience and ecological balance through worldwide service-learning programs, which promote innovative regenerative design practices and integrate local wisdom.
WE focus on applying creative solutions to communities in need around the world in the format of permaculture design courses, natural building workshops, cross cultural service-learning tours, and community-based land-regeneration projects.
Moreover, Woven Earth, as the name suggests is intended to weave connections on the planet; links between people, links between cultures, and links within nature (i.e. cultivation techniques, seeds, ecosystem regeneration, etc). Woven Earth is dedicated to the holistic development of interlinked, diverse cultures integrated with Nature.
Summary of Woven Earth's recent earthbag work in Nepal:
-3 houses built as training models in Ghyampesal, Gorkha District, Nepal in October – November 2015.
-Woven Earth Board members Justin Hall and Lucas Trotmas assisted Carisimo (Germany) with a few dozen of the houses in Mulabari, Nuwakot.
-Acting as technical advisors, in collaboration with Loving Arms Mission (based in Pennsylvania, USA), assisted the local farmers of Piple village, Kumpur VDC, Dhading District Nepal in building 15 farm houses in 2016.
-1 farm house in Chhatre Deurali village, Nuwakot, in March 2017, as training for the locals.
-Acting as technical advisors, in collaboration with Common Action for Sustainable Development, we organized training for the local persons to build 1 large Savings and Credit Cooperative Building for the local women's cooperative in Malta village, Lalitpur District in May – June 2017.
Upcoming projects include a January 2018 training build of volunteer accommodations in Pame village near Pokhara, Syangja District, Nepal for Rainbow Childrens' Home, an earthbag dome house in Chouff, Lebanon, and an earthbag dome community center to train Syrian refugees living in the Bekka Valley refugee camp.
Thanks Owen. Wishing you all the best,
Michael Smith
(+977) 981.863.0589
Woven Earth
I feel honored to have met so many great/amazing people who work in these various NGO projects that we've profiled here on our blog. Please support their work instead of giant NGOs who blow much of their money on administrative costs, travel, expensive cars, phones and computers. Also, if you're considering taking an earthbag workshop, natural building internship or maybe just a goodwill summer adventure then look into these NGOs. There are few guarantees in life but one thing is for sure – you're assured of an amazing, life changing experience when you live and work hand-in-hand with villagers who've had everything destroyed. This is what life is really about folks.