"Earthen Building, Sustainable Home Hybrid: In this video, Quinn Eaker, Founder and Director of the most sustainable Community in the State www.intotheGardenofEden.com discusses the importance of true sustainability consciousness and how that may apply to building homes.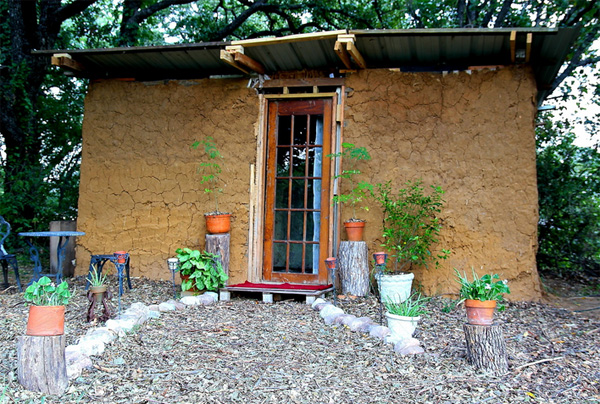 There are many ways to build sustainable homes. Super Adobe [earthbag] is one of the best, cob has been proven for thousands of years, straw bale houses can be fast and cheap, rammed earth homes, log cabins, or old fashion rock and stone can all be used to build. Even building underground homes or tree houses can be a sustainable option. Yet as Quinn so wisely points out, the most sustainable option is always relative to the situation.
How the structure was built
In the spring of 2014 we erected a lovely cottage of cob, reused pallets, salvaged tin roofing and donated carpet remnants. It essentially cost us no money, only the energy it took to build it. With our own bare hands and feet, we mixed literally a ton of cob and applied it, one big muddy glob at a time. About six pallets wide and four deep, it is a cozy and earthy. It offers a more private feeling as it is nestled in a dome of branches of a large mature tree at the edge of the plot, hidden away from the sight of most angles on the lot."
YouTube
More photos of the house
Into the Garden of Eden YouTube channel
These folks got SWAT raided about two years ago for an unpaid parking ticket and tomato plants that were mistaken for marijuana. Video about the police raid of their sustainable community.