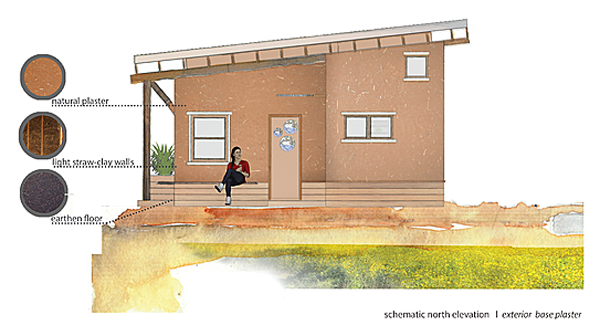 "A 100 Mile Home is Eugene's first permitted residence with a natural light straw/clay wall system, and it's being built at Emerald Village Eugene!
This innovative dwelling demonstrates a natural building process that uses minimal industrial materials and incorporates local labor, skills, knowledge, and the rich resources of the Willamette Valley.
It will showcase aesthetic elements of a naturally insulated, plastered, and finished home and set a public example, within the village model, of how natural building, affordable housing, and community involvement work symbiotically to provide a solution to today's critical housing crisis. DirtChiQ's goal is to make natural building, now embraced by much of the Eugene community accessible to renters and low-income residents.
Committed to the concept of sourcing non-toxic, regional materials, this home will be a working example of how urban micro-homes can be built affordably with natural, reused, and local materials. In addition to meeting code and incorporating a wall system comprised of loose straw coated in clay slip, this design is easily relatable to conventional builders.
To provide easy access and replicability the design, process, and permitting documents for this home will be available as a model for other architects and tradespeople committed to building affordable homes."
Square One Villages
Special thanks to Alex and Gail for sending me this article. I really appreciate good articles like this because it's impossible for one person to keep up with all the new developments.