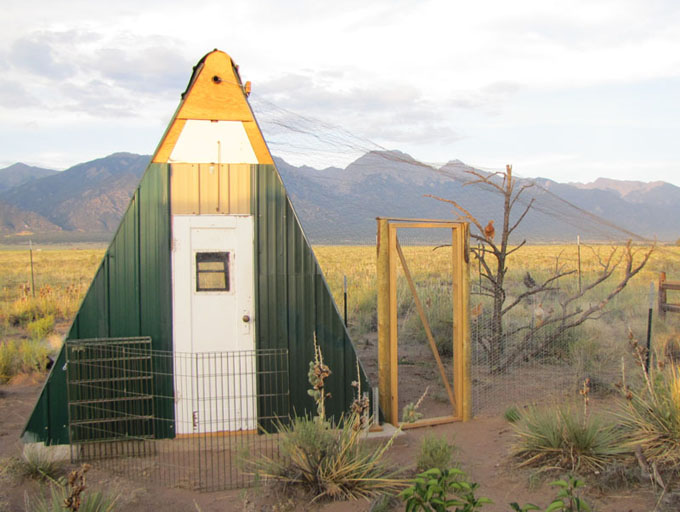 My latest building project, that I have been working on for several months, is a large multipurpose  construction, combining elements of a barn, garage, chicken coop, recessed pantry, and mud room entryway. Actually, the chicken coop was finished about year ago, but was planned to be part of the whole affair. I would like to tell you about all of this, but maybe I'll start with the chicken coop.
I am currently living in a double-wide manufactured home that was brought to this property over 15 years ago. Lying in the sand when we bought the property about three years ago, were two large A-Frame shaped tongues that had been used to haul the two halves of the house and then just left there. I realized that they would make for a very sturdy framework for a chicken coop, so I stood them up on a simple earthbag foundation and then connected them together with 2X6 wood planks. The exterior was sheathed with recycled metal roofing, making the coop practically impenetrable from varmints. The inside was lined with weathered old raised garden bed wood that had little other use. I filled the voids between these skins with 1 and 1/2 inch styrofoam insulation, and provided some large screened air vents at the apex on both ends. A couple of recycled windows provides daylight.
The chickens love it and spend a lot of time in there, even when they have access to the totally screened in exterior pen. The total cost of this was maybe $150, since most everything was recycled.