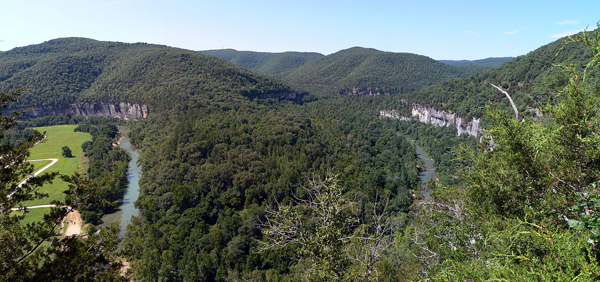 We've had a lively discussion for years here on our Natural Building Blog about the best places to live with few or no building codes that make it easy to build a home out of low cost natural materials and create a homestead. In my opinion the Ozarks is a top choice for natural building and homesteading in the US due to many factors.
Favorable features include: relatively mild weather (= easier to garden), abundance of forests and timber, affordable land, and abundance of lakes, rivers, streams and springs (water almost everywhere). The Ozarks have a very independent, freedom loving culture that has kept building codes to a minimum. The area is incredibly beautiful. Do an image search with your favorite search engine or check out this tourism video for a sample of the local scenery.
"The Ozarks, also referred to as the Ozark Mountains, Ozarks Mountain Country, and the Ozark Plateau, is a physiographic and geologic highland region of the central United States, primarily in Arkansas, Missouri, and Oklahoma. The Ozarks cover a significant portion of southern Missouri, extending as far northeast as the southwestern suburbs of St. Louis. In Arkansas, a large portion is contained within the northwestern and northcentral region. Much smaller pieces of the Ozarks extend westward into northeastern Oklahoma and extreme southeastern Kansas.
Although sometimes referred to as the Ozark Mountains, the region is actually a high and deeply dissected plateau. Geologically, the area is a broad dome around the Saint Francois Mountains. The Ozark Highlands area, covering nearly 47,000 square miles (122,000 km2), is by far the most extensive mountainous region between the Appalachians and the Rocky Mountains.
The majority of the Ozarks is forested; oak-hickory is the predominant type; Eastern Junipers are common, with stands of pine often seen in the southern range. Less than a quarter of the region has been cleared for pasture and cropland. Forests that were heavily logged during the early-to-mid-20th century have recovered.
Today hunting and fishing for recreation are common activities and an important part of the tourist industry. Foraging for mushrooms (especially morels) and for ginseng is common and financially supported by established buyers in the area. Other forages include poke, watercress, persimmons and pawpaw; wild berries such as blackberry, black raspberry, raspberry, red mulberry, black cherry, wild strawberry and dewberry; and wild nuts such as black walnut and even acorns. Edible native legumes, wild grasses and wildflowers are plentiful, and beekeeping is common.
The 1960s and '70s saw back-to-the-land farms and communes established in rural counties."
Wiki
Scenic Ozark Hikes
In addition, the Ozarks is a somewhat protected area well away from high density urban areas along the coasts. In a major disaster like an EMP strike or major financial crash, the Ozarks might provide good refuge until things recover.