Reader question: What's the best heating system for a 300 sq. ft. scoria bag roundhouse located at 5,000 ft. in western Colorado? I'll use 2' of blown cellulose insulation in the roof (about R-55).
Owen: Ernie and Erica Wisner, rocket mass heater designers, say these heaters can easily heat a home with 2 cubic feet of wood per day. One YouTube commenter said they heat their 1,600 sq. ft. home with a rocket mass heater, so this may be overkill for a 300 sq. ft. home. Consider using one of the smaller stoves described above. If you're interested in the rocket stoves, Ernie and Erica have a rocket mass heater DVD for sale. Many of the scenes from the DVD are online for free.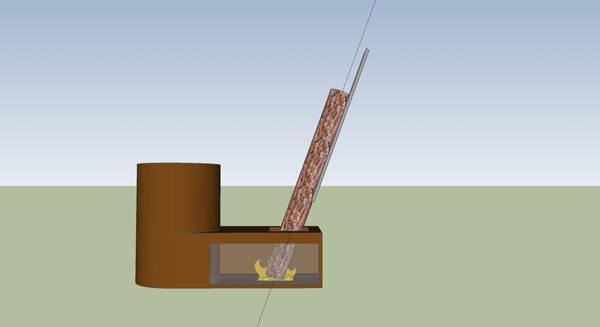 Here are three interesting home heating options:
1. Sardine stove or other similar small stove
2. Self-feeding rocket mass heater (automatic gravity feed) that burns wood poles. Permies.com has a good discussion on this. This would save lots of cutting and extra steps to fuel the stove. Self-feeding heaters would be great for greenhouses, shops and similar outbuildings where you want to keep oversight to a minimum. (The self-feeding option probably isn't needed for real small homes, but it's interesting to consider since many people don't like constantly fussing with a stove.)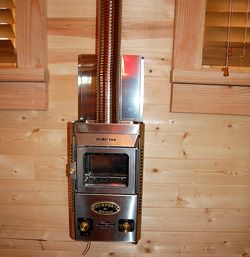 3. Propane boat heater like you see on tiny house videos. These Dickinson Marine, Newport propane heaters are available from Go2Marine.com for $768. You might want to have both wood and gas heating systems so you have backup heating. Maybe there's an extreme cold spell or let's say you hurt yourself or get sick and can't feed the stove. You could turn on the gas heater and not have to worry. Or vice versa, you run out of propane and heat with wood.
Your house R-value will be off the charts using what you described as long as you detail the floor, doors and windows correctly. Most heating dealers can't comprehend this and will try to sell you a heater larger than you really need.
Self-feeding Rocket Mass Heater videos on YouTube
https://www.youtube.com/watch?v=Sqznv5GDSWc very good, just add a chute to guide longer logs
https://www.youtube.com/watch?v=ne0vhvvt0_8 UL listing in progress
https://www.youtube.com/watch?v=7wqJQmD-eVo rocket heater on steroids using wood pellets
https://www.youtube.com/watch?v=9gQN6KQ67D8 talks about controlling air flow
https://www.y outube.com/watch?v=hcxQcMZYh6c turn rocket mass heater into gasifier
https://www.youtube.com/watch?v=KYtUG85cdoE (also used for cooking)