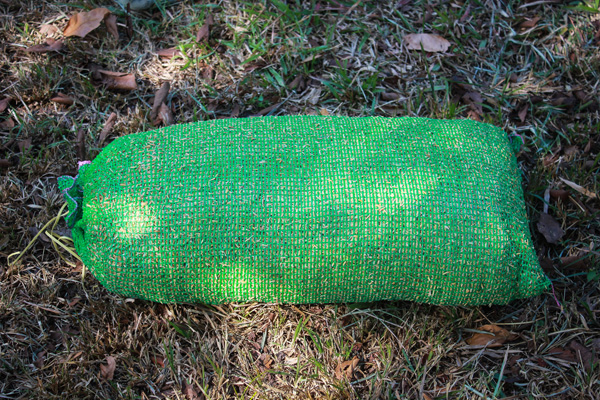 This bit of news is a nice breakthrough for rice hull earthbag building. Using a suggestion from Richard, a long time reader, I made a test bag using raschel mesh and rice hulls. I had previously ruled out using rice hulls in mesh bags, because it seemed certain that the hulls would fall through. Well, it turns out some hulls do fall through, but not many. The hulls naturally jam up against each other and only a negligible amount (say 3% or so) fall through.
The finished size after stuffing the bag full and compressing it by hand is about 7″ high x 13″ x 26″ for this particular brand of raschel bags. The height (thickness) is actually around 7-1/2″, but the weight of other bags will compress it more. A roof load would likely compress it even more.
The tie on the bag end is made from a strip of recycled poly strapping used to secure loads on shipping pallets.
The only downside to these bags is raschel mesh bunches up and so you need a way to hold it open for filling. A bucket chute or feed tube will make it much easier to fill than doing it with bare hands like I did this one.
So there you have it – another step forward for utilizing rice hulls to build lightweight, inexpensive, superinsulated walls. Search our blog for numerous articles about raschel bags and building with rice hulls. Here are two to get you started.
Interview with Maggi of Chiang Dao B&B Rice Hull Houses
Production Earthbag Building Using Rice Hulls (you can use a machine to blow rice hull insulation)