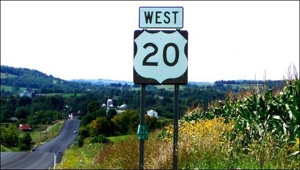 As a young man, I traveled across Nebraska on Highway 20 that parallels the main east-west interstate across the state. It's very beautiful country. The scenic byway was far more interesting than the interstate which I had traveled many times going back and forth to Colorado on vacation. Places like this would be a great place to homestead.
You don't have to live in the middle of nowhere. Consider taking a trip along some scenic byways and check out small towns along the way. See this previous story about small town urban homesteading for instance.
Building codes are often quite lenient in small rural towns, especially if you're outside city limits. One option is to get an old farmhouse so you have a place to move into right away. Build your dream home later once you've settled in. Be sure to choose a spot with decent soil and a good well so you can grow your own food. Or better yet buy an old homestead with an established garden. Also, be sure everything you'll need is within reasonable driving distance – building supply center, supermarket, farmer's market, farm supply, etc.
Search sites such as America's Scenic Byways.
Thanks to the Internet you can now check out almost every aspect of an area before going. This will speed your search and save tons of money. Like they say, "Let your fingers do the walking."
I just did a little search and found out that Nebraska Highway 20 is the longest highway in the US. U.S. Route 20 covers 3,365 miles from Boston, Massachusetts, to Newport, Oregon. The article says "The road allows you to come face-to-face with some of the most famous cities, charming towns, and scenic landscapes in the country."