Embedding bottles in a wall creates a really stunning effect, especially when sunlight shines through bottles of different colors.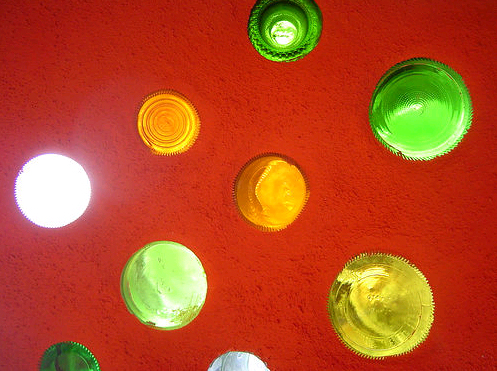 However, many bottle walls are thin walls. Here are some suggestions for using bottles in wide earthbag walls:
– Buy a bottle cutter or rent a wet tile cutter to remove the ends. Join bottles of the same color end-to-end, tape together with duct tape and embed between courses of earthbags. The bottles need to protrude so they align with the finished plaster.
– Create a thin section of wall within the earthbag wall. This will require building an earthbag arch to transfer the loads around this section of wall. Example: create an arched opening of the desired size and shape, and infill it with bottles set in cob. This eliminates cutting of bottles… just let them protrude on the inside. (You don't want water getting inside.)
– Machine shops have cutting machines that use hacksaw blades to slowly cut steel. But they would (should) also cut glass. Not sure of the cost, but this is an option. Look for a small shop that's not too busy.
More info: http://en.wikipedia.org/wiki/Bottle_wall
http://maven.gtri.gatech.edu/sfi/gradcourses/goathouse/MBWall.html