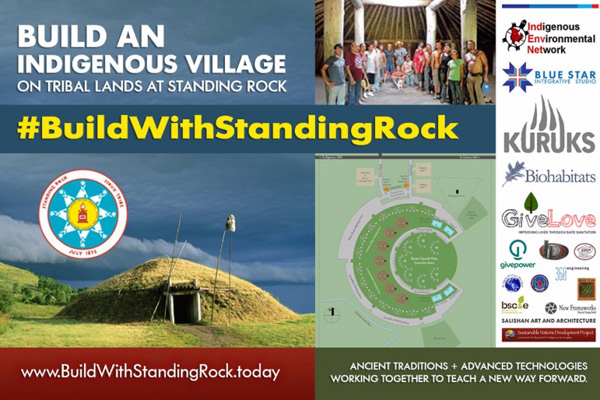 "This is an incredible time of positive change! Time to bring traditional structures and lifeways back in new and exciting ways! Standing Rock is bringing together Indigenous led Water Protectors and Earth Warriors in profound ways, supporting the just transition to locally based and truly renewable energy sources while protecting our Water, Land, and future!
We are blending local Indigenous construction techniques that have existed for thousands of years, with the latest in technologies and expertise. This is a new model community that will be climate adaptive as a sacred gathering place for generations to come.
There will be Earthlodges (various types – mound, pit house, hogan, etc.) and other green-built structures to serve as a permanent, solar-powered, water conserving, teaching and demonstration buildings; beautiful examples of contemporary Indigenous architecture and engineering. A place to remember and honor the history being made at Standing Rock while celebrating an economy and way of living that is dramatically less dependent on fossil fuels.
The active construction phase of the Ecovillage starts in the Spring of 2017, constructing at least 7 Earth Lodges, 6 Straw Bale Buildings, 28 Tiny Homes, and 28 Warm Yurts.
Please consider supporting this profoundly impacting project by contributing at www.buildwithstandingrock.today, or contact us for information on organizing a fundraising circle in your local community, or to offer other support!"
Build With Standing Rock.com
What a great project! It's a very positive reaction to the injustices taking place there. Thanks to Gail for this tip. She's sent me numerous good suggestions for blog posts over the years.